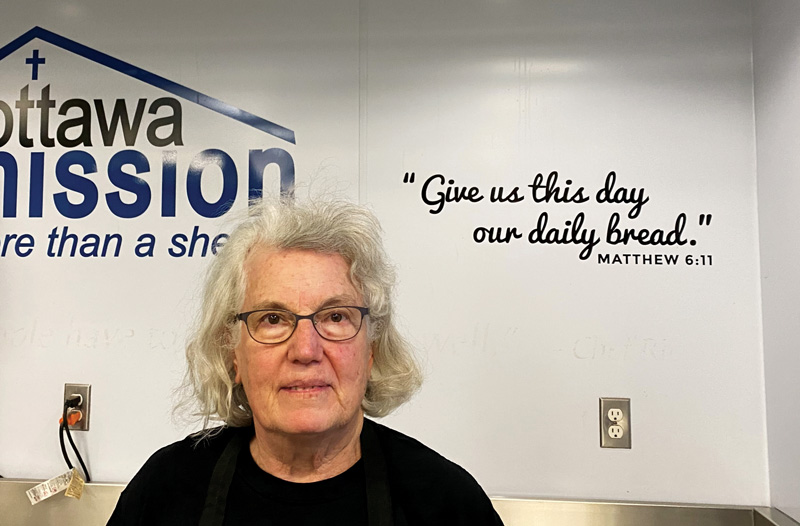 Linda is a kind and thoughtful person who has been volunteering in The Ottawa Mission's kitchen for the past 16 months. In this role, she's completed a variety of tasks, including buttering bread and cutting buns, making sandwiches, serving coffee in the morning to clients, wrapping cutlery for individual servings (a continuing Covid19 precaution), and serving beverages and desserts to clients at lunchtime. Linda volunteers once a week.
As a retired occupational therapist and a people person, a main draw of volunteering in The Mission's kitchen is the opportunity to interact with people such as other kitchen volunteers and Mission staff. "The Mission staff and volunteers are very friendly. I look forward to coming here for my shift," Linda notes.
Most rewarding of all for Linda is her interaction with the clients she serves. "Clients have gratitude and are very thankful for the help they receive. It seems counterintuitive since clients are homeless, but I've seen so many beautiful smiles on the faces of clients since I've started here."
Linda has also noticed the disproportionate burden of homelessness that people from racialized backgrounds bear as she serves clients. "They are overrepresented and disadvantaged," she notes.
In the spring of 2020, The Mission's Board of Directors developed and confirmed a statement on anti-Black racism. This statement notes that "Jesus made it clear that one of the reasons he was sent by God was to 'set the oppressed free' (Luke 4:18). In our commitment to transition those we serve to wholeness, here at the Ottawa Mission we are privileged to come alongside a wide diversity of people including an increasing number of Black individuals who benefit from our services." The Mission was one of the first agencies in Ottawa to issue such a statement. It builds on our commitment to unconditional acceptance and respect for all clients we serve regardless of background, which is reflective in many of our programs, for example, our country food feast and specialized counselling for Indigenous clients.
Your generosity ensures many smiles on the faces of our clients as well as a sense of dignity and belonging to all who turn to us for help. Through your donations and your volunteer engagement with clients, you provide warmth and inclusion. Thank you so much for your kindness and caring.