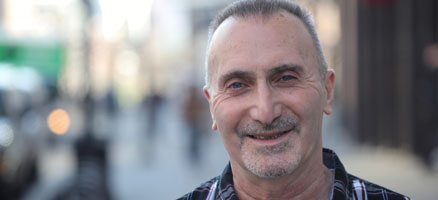 Become a Champion Of Hope
As a monthly donor, you can help ensure that The Mission continues to meet the ongoing needs of people in our community.
Donate Monthly
Journeys Of Hope
The story of homelessness isn't one with a beginning, a middle, and an end.
Learn more using the buttons below:
Watch Our Ottawa
Mission Video
Why do we do what we do? To get to the heart of The Mission look no further than the people we serve. Their stories are our story.
Make a donation today!
Hope in Action
Read our 2019 – 2020 Impact Report
The Ottawa Mission began as a place that offered men in need a safe bed and a meal. It has since evolved into a place that offers a wide range of programs and services to address the ever-changing needs of people experiencing homelessness. We offer hope to people in the community who need it most—you can learn more in our newsletter's stories about people who have accessed our services. Experience 'inspiration in action' yourself by arranging for a tour of the shelter and seeing what we do first hand!
People who access The Ottawa Mission's services can rely on a warm place to sleep and nutritious meals every day. With your help, we also offer addiction treatment programs, medical and dental care, job training and education, and housing support for people working to change their lives. Our 21-bed Hospice provides care and compassion to men and women with terminal illness, and we also offer guidance for anyone seeking spiritual support.
Success is different for everyone. For someone with an addiction, success may mean a day, a week, or a month of sobriety; for someone with a mental illness, success may mean finding the right medication or developing successful coping techniques; for someone out of a job, success may be putting together a good resume; and for someone who is alone and dying, success may be reconnecting with a family member.
The Ottawa Mission is a registered Canadian charity through the Canada Revenue Agency (CRA). We would like to thank our donors, whose generous support means that life-changing programs and services are available to people in need.