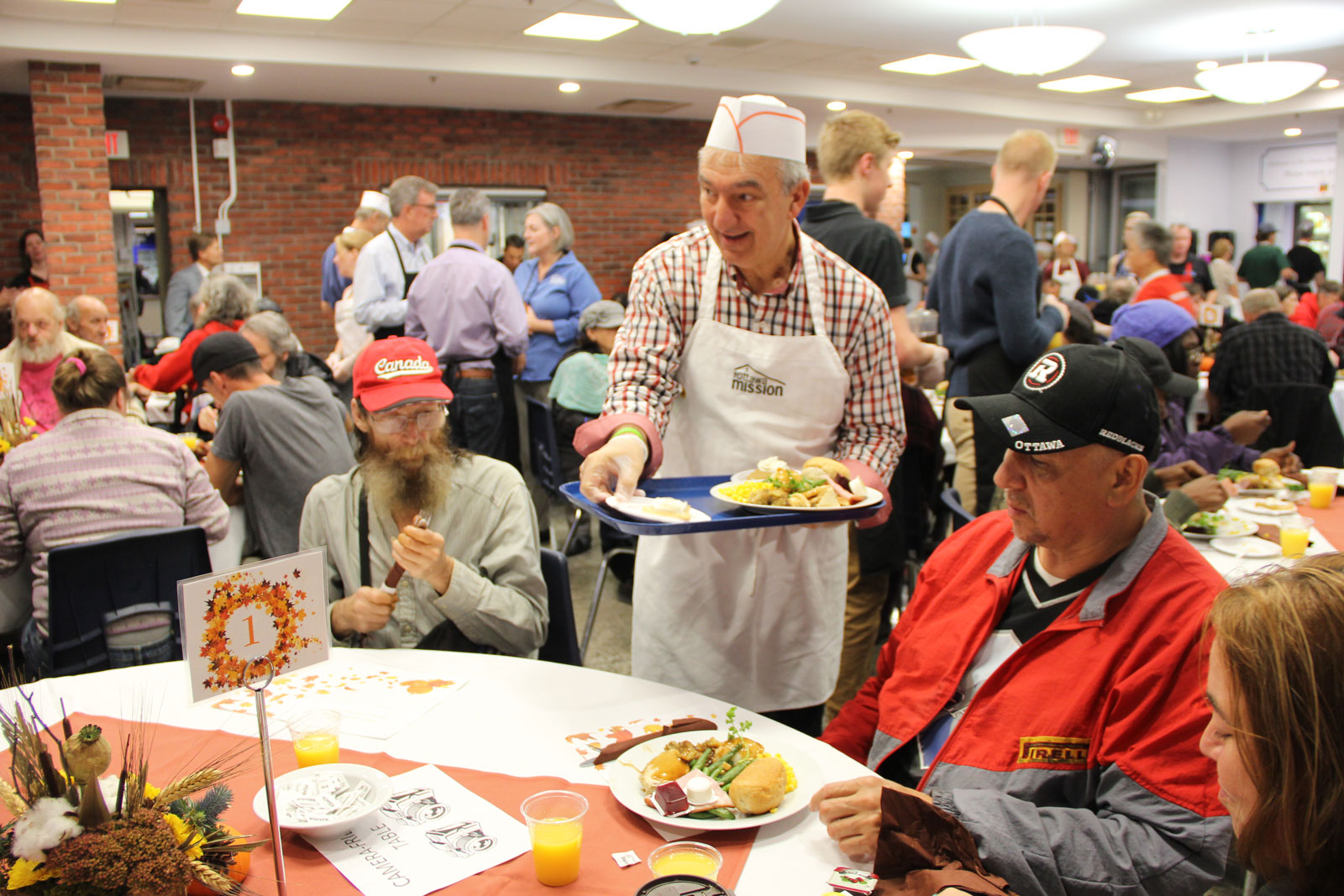 Ottawa, ON – As we head into the fall, planning is well underway for The Ottawa Mission's annual Thanksgiving Dinner, which will take place on Monday October 14th, from 11:30 a.m. – 5:00 p.m. at 35 Waller Street, Ottawa.
On any given day, the Ottawa Mission serves over 1,450 meals to shelter residents and those in need in the community. During Thanksgiving, The Mission will provide 2,000 – 3,000 meals for this special occasion for those who would otherwise go hungry.
"It takes between 80-100 large turkeys, or about 2500 pounds of turkey, to feed everyone who comes to our special Thanksgiving dinner," says Chef Ric Watson, Director of Food Services at The Mission. "Our kitchen volunteers and staff are working very hard to ensure that to ensure everyone will have a delicious turkey dinner by preparing for this very special event in advance."
Also on the menu will be: savory stuffing (30 pans); baked ham (300lbs); mashed potato (450lbs); corn niblets and roasted red peppers (350lbs); green beans almandine (350lbs); assorted pies (2500 units); fresh baked rolls (250 dozen); and giblet gravy (50 gallons).
In addition to warm and nutritious food, the Thanksgiving dinner provides a sense of shared community and fellowship to those in Ottawa who may otherwise not only go hungry, but also find themselves alone.
Frozen turkey donations can be dropped off anytime at The Ottawa Mission's front desk, located at 35 Waller St. Arrangements can also be made to have donations picked up by calling 613-234-1144, ext. 248.
About The Ottawa Mission
Since 1906, The Ottawa Mission has been serving the homeless, the hungry and the lost by providing food, clothing, shelter and hope. In 2017- 2018, The Ottawa Mission sheltered an average of 236 men every night and served an average of 1,312 meals every day. The Ottawa Mission also provides health services, mental health and  addiction treatment programs, hospice care, dental services, educational support, job training, spiritual care, and men's clothing to thousands in need in our community.
FOR INFORMATION, PLEASE CONTACT:
Aileen Leo
Director of Communications
T 613.234.1144 x 305
E-mail: aleo@ottawamission.com