There isn't a single type of volunteer at The Ottawa Mission.
All of them have a story of how they arrived here, and different reasons that keep them coming back.
They have different ages, backgrounds and beliefs, but all of them come into the building with the same goal: they want to do some good for people.
From serving meals, to doing laundry, to supporting transformative programs for clients, the work that is done on Waller Street is only possible through the passion and generosity of our volunteers.
"They're the cavalry coming over the hill," said Jake Harding, The Mission's Coordinator of Volunteer and Community Engagement Services.
"From a strictly operational point-of-view, without volunteers to help us, we could not do what we do," he said.
That's been especially true during COVID-19.
The impacts of the pandemic have been felt everywhere at The Mission, most notably in the huge growth in food insecurity across Ottawa and the need for food programs like the Mobile Mission Meals food truck.
Finding the helping hands to meet that growing need, in the middle of the pandemic, was the challenge that fell on the volunteer office.
Before COVID-19, the average volunteer would come in 9 hours per month, but now, that number is up to 14 hours per month.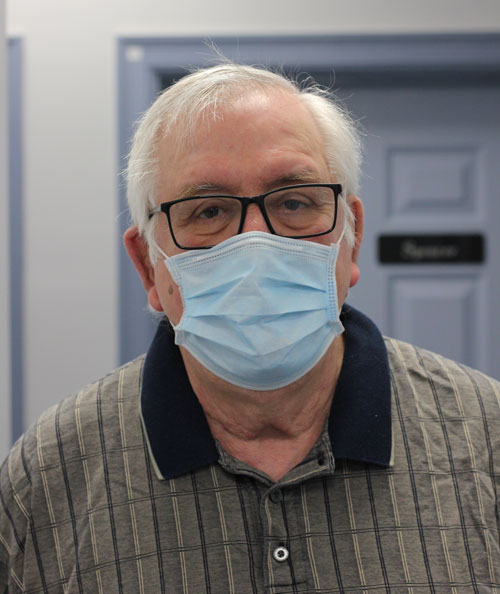 But with many volunteers who are elderly or immune-compromised needing to stay home for safety, experienced volunteers and new ones alike have stepped up to take on more shifts to help meet the growing need for food in our community.
For some volunteers, having to staying away has been hard.
Normand Bradley started volunteering with The Mission 4 years ago, and over 2,000 hours of volunteering later, keeps coming back every week.
But last year, due to COVID-19 restrictions, Norman wasn't able to leave the building he lives in for nine weeks, which prevented him from volunteering.
"It was terrible," he said. "You become so close to the staff and other volunteers, it's as hard as not seeing your family."
However, the day he was allowed to leave again, he remembers the feeling of picking up the phone to call Jake and schedule a shift.
"It felt like I had won the lottery," he said.
"If not now, then when?"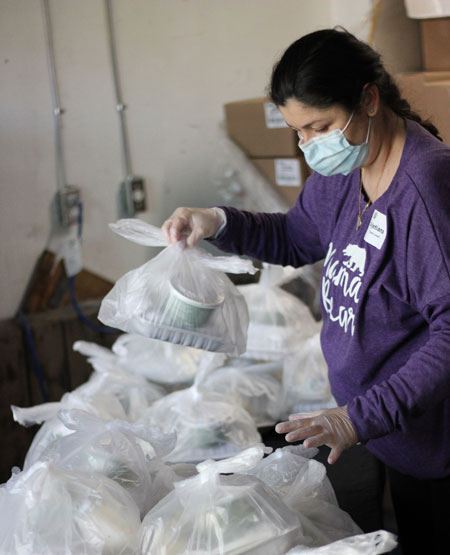 Svjetlana Gavric walked by The Mission every day on her way to work, seeing the growing demand for its services firsthand. She started volunteering on her own several years ago, and found herself quickly drawn into the community of care developed by the staff and volunteers.
"You meet so many different people that have crossed so many different paths," she said. "And you learn something from each of them."
With many volunteers having to stay away due to the pandemic, it's been hard on the community.
"I've made real friendships here, the kind where you call to check in on one another," she said. "Speaking with them, you can tell it causes them hurt that they aren't able to come in."
For Svjetlana, that's one of the reasons it was still important for her to continue to serve, despite the risk.
"If not now, then when?" she said. "As long as there are people in need, we'll be there. We have to come together as a community, now more than ever."
"Help is like a two-way street here."
Beyond the friendships that are built, for many volunteers, helping serve people experiencing poverty in our community has changed their perspectives on homelessness.
Cezar Iliescu is a law student at the University of Ottawa, just a few blocks away from The Mission.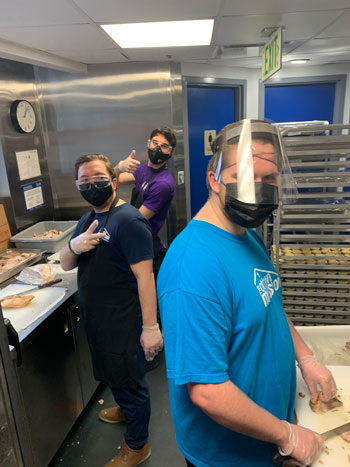 "On campus, I feel many students know there's a shelter over there, but not the exact details of what happens here," he said.
It was while taking a social justice course that Cezar came to start volunteering at The Mission, and discovered the breadth of services offered here.
Eventually Cezar got other students involved through a student group he founded, including running a fundraiser and volunteering as a group.
"Before I introduced them, they all had their own biases and preconceptions about why people are homeless," he said. "By volunteering here, they really learned how poverty affects people, and how homelessness can happen to anyone."
Those fellow students he introduced have continued to volunteer on their own now, something Cezar attributes to the volunteer community and culture of The Mission.
"Help is like a two-way street here," he says. "I've always been told here, if I ever run into food problems, or anything like that, we're all here to help you."
Working with others
As COVID-19 continues to present new challenges, the work continues in the volunteer office to help meet the need.
For Jake, he says the mental health challenge COVID-19 has presented to them has been twofold.
"For staff on the frontlines, it's been isolating to not have the regular community of volunteers with us," he said. "And for the volunteers not able to come in, they find it difficult to be away."
"The community aspect is what we're all missing," he said.
But even through the trials of the pandemic, that community isn't gone.
It's kept alive through those that continue to serve, and by those looking forward to returning one day soon.