Acrylic on canvas, 16x16in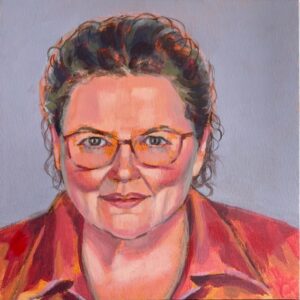 Wendy Muckle is a registered nurse, healthcare manager and a co-founder of Ottawa Inner City Health (OICH) with Dr. Jeffrey Turnbull. OICH was created in the late 1990s to improve access to healthcare for people who are chronically homeless. Wendy has been its CEO since the beginning.
For those who are homeless, health is often compromised by lack of housing, family support and care. OICH has healthcare units located within Ottawa's shelters, including The Mission, to provide care safely. This model is well accepted by homeless clients and supports health outcomes comparable to the Canadian standard.
A federal grant enabled OICH and The Mission to establish the Hospice as AIDS was devastating Ottawa's homeless community. By bringing care to those experiencing homelessness directly, the project showed that this model of care is more accessible, appropriate and cost-effective, and improves clinical outcomes.
OICH also partners with The Mission to operate our primary care clinic.