Acrylic on canvas, 20x20in - 2022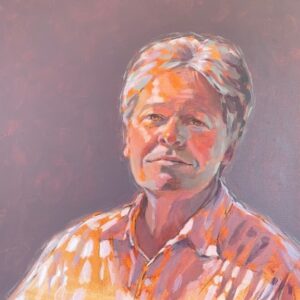 Peter Tilley joined The Ottawa Mission in 2013. Working with The Mission's board of directors and senior management team, he has overseen the implementation of several ambitious strategic initiatives that have significantly expanded the range of services that The Mission provides to shelter guests and vulnerable community members. Prior to this, Peter was the Executive Director of the Ottawa Food Bank for 14 years. His experiences have strengthened his resolve to combat both homelessness and hunger.
A man of deep faith, Peter knows the struggles of many shelter guests personally as he is open about his own journey to recovery, recently marking 14 years of sobriety. He takes the time to speak to shelter guests, lending them a friendly ear and calling them by their first names.
In addition to leading The Mission, Peter volunteers on community boards, including Ottawa Public Health, Ottawa Inner City Health and Soldiers Helping Soldiers.