Acrylic on canvas, 40x40in - 2022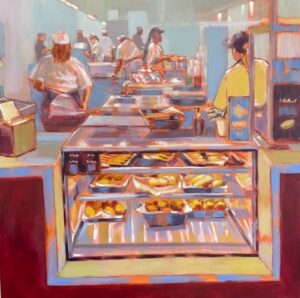 Chef Ric's is The Mission's social enterprise and a community asset for people from all walks of life.
Located in the former Rideau Bakery at 384 Rideau Street, Chef Ric's embraces the vision of this beloved Bakery. Established by the Kardish Family in 1930, the Bakery provided warmth and inclusion to the people of Ottawa for almost 90 years. Chef Ric's embraces this vision through: 1) A storefront where people can purchase healthy and affordable prepared foods for themselves and their families 2) An expanded Food Services Training Program (FSTP) to train more students so they can continue their journey toward employment and independence 3) An expanded catering service with proceeds directed back to the FSTP.
Chef Ric's opened in September 2021 and is one busy place. We are honoured to continue the legacy of kindness of the Kardish family and welcome everyone in our community to our new home.