Acrylic on canvas, 40x20in - 2021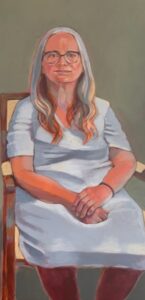 Mariam is a personal support worker who has worked faithfully to care for clients in The Mission's Hospice since it opened in 2001. Personal support workers are a critical part of the Hospice team and provide essential physical and psycho-social support to Hospice patients through assistance with activities of daily living such as feeding, personal care, as well as listening to patients and being present with them to provide companionship and solace.
Providing care to her clients is extremely important to Mariam. "My passion is to help the needy and dying by assisting in daily living by giving care and providing clients quality care so they can die with dignity. By assisting I get satisfaction."
Mariam provided care to Luc over the several months that he stayed in the Hospice. Her steadfast support enabled him to gain the strength he needed to transition to supportive living in the community.