Acrylic on canvas, 40x20in - 2022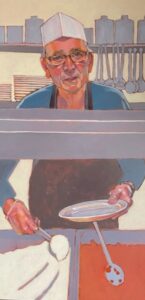 Jack has a long history with The Ottawa Mission. He has served on the Board of The Mission for decades, including as Chair and past-Chair, as well as the Board of its Foundation. Jack also served as The Mission's Executive Director and Chaplin.
Jack also volunteers in the kitchen weekly serving meals to shelter guests alongside Lulu, Dorothy and Silvia. "It keeps me honest," he says smiling.
Jack spent 18 years in federal politics, including four years in Cabinet. He and his wife Lyn have three grown children.
A man of deep faith, Jack also coordinates the National Parliamentary Prayer Breakfast, a non-partisan group of MPs, Senators, Ambassadors, business and community leaders. He also leads and teaches meditation and contemplation groups at Saint Patrick's Basilica and The Mission, and is the National Coordinator for Christian Meditation in Canada.
Jack's kindness extends to Mission clients personally: he drives Big John home from church at Saint Patrick's every week.