Acrylic on canvas, 40x20in - 2022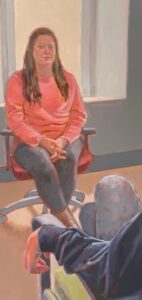 Emma is the Coordinator of Stabilization, the middle-tier of The Mission's Addiction and Trauma Services suite of programs, which moves clients who choose to do so toward abstinence.
Stabilization is unique among addiction programs since it accepts clients who have outstanding criminal charges, prescriptions involving opioids, or other barriers to care. Addiction and involvement in the justice system are often connected. Emma assesses clients who come from custody to understand their needs and dissipate their fears. Some clients stay for two months. Others stay for a shorter time to deal with active substance use, while others address a risk of relapse.
"It can be easy to become homeless because something has gone wrong. It's not easy for clients to ask for help. I feel humbled and lucky to be part of their stories. Everyone has a story and I'm blessed to create an environment for them to do that."