Acrylic on canvas, 40x40in - 2022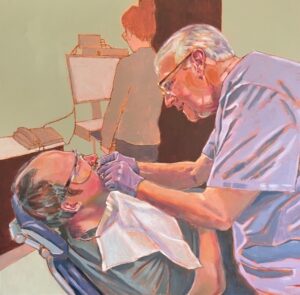 Dr. Tom Harle spent 15 years offering dental care overseas when he realized that he was needed at home by people who are homeless and precariously housed. In 2007, he established The Mission's dental clinic, which offers a full range of care thanks to over 100 volunteers and 14 dental labs.
The clinic has a huge impact on those who are in pain, cannot eat properly, and have no access to dental care. It also builds their self-esteem.
In 2022, Big John visited Dr. Tom – his first dental care visit in over 30 years. He left the session delighted with the care he received, and will return for follow-up visits. Shannon, the clinic's dental hygienist, supports all dental care sessions.
As Dr. Harle says, "We're humbled by the gratitude of those who come to us for help. Giving people back their smiles is very satisfying."