Acrylic on canvas, 16x16in - 2021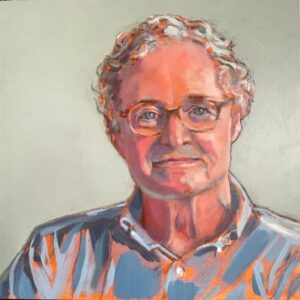 Dr. Jeffrey Turnbull, or "Dr. T" as he is known, is a cofounder of OICH with Wendy Muckle. After senior positions in medicine, Dr. Turnbull retired in 2017 to be OICH's Medical Director. He and Wendy approached Diane to form The Mission's Hospice to provide palliative care to homeless people directly.
"Diane Morrison was very receptive, and in The Mission we found a willing partner to improve end-of-life care for people who were homeless," Dr. T remembers.
Dr. T notes the Hospice's profound importance to him. "Aside from the professional gratification I receive as a physician, I also feel part of this community and extended family. Working with my colleagues in the Hospice, I know that they share my values and my goal to provide the best possible care. Over the course of my career, this has been the most rewarding and meaningful work I have done."