Acrylic on canvas, 24x24in - 2022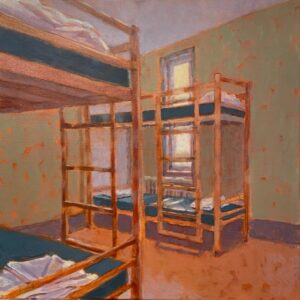 As Ottawa's oldest and largest emergency shelter, The Mission has grown from 12 dorm beds in January 1907 to 177 dorm beds today. Frontline staff book guests in and ensure they are settled in their respective dorms.
After a devastating fire on Christmas Day, 1992, the shelter underwent renovations to expand its dorm capacity to serve more people in need. Major changes were made to brighten dorm rooms. Other measures enhanced cleanliness, including vinyl mattress coverings and stainless steel bathrooms.
As homelessness worsened in Ottawa leading to the declaration of a homelessness emergency in 2020, dorm capacity routinely exceeded 100%. Mats were placed on the chapel floor to augment capacity.
When the pandemic was declared in March 2020, 60 dorm beds closed and shelter guests were diverted to overflow shelters to support social distancing. As the pandemic was brought under control, these beds were gradually reintroduced into the shelter.