Acrylic on canvas, 30x40in - 2022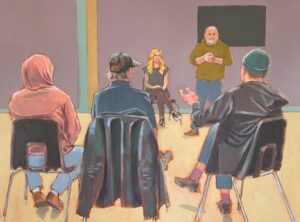 Addiction and trauma are often linked. At The Mission, recovery comes through integrated drop-in and live-in treatment programs, gradually moving towards wellness.
Day Program is a drop-in group focused on peer support and education while Hope Program is a live-in treatment program focused on harm reduction. During the pandemic, the Day Program has been limited to clients booked into the Hope Program to minimize the risk of infection.
Nives and Robert guide clients through group meetings and provide individual counselling. "I'm very grateful to be working through a harm reduction model. By offering a non-judgmental space for clients to explore the underlying reasons for their behaviours, we often see them gain confidence and skills to better their own lives," Nives notes. Robert is also grateful to his clients. "Many clients are overwhelmed with gratitude to receive support, and in turn they support me in my work."