Acrylic on canvas, 20 x 20 in - 2022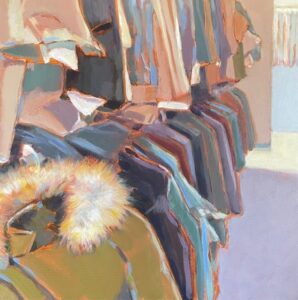 Clean, warm and respectable clothing provides dignity, self-respect and confidence to people who are homeless and in need. It also provides them with protection from the elements, particularly during the winter months. Having access to appropriate clothing means that residents and community members can access appropriate, seasonal clothing for job interviews, new jobs, weddings, funerals, family gatherings, and other functions.
The Mission's Clothing room is stocked with new and gently-used items donated by caring individuals, local retailers, or are collected through workplace clothing drives throughout the year.
Donations had to be suspended during the pandemic as one of many measures to minimize the possibility of infection to keep shelter guests, staff, volunteers and partners safe. Prior to the onset of the pandemic, thousands of shelter guests and community members in need visited the room. The shelter is slowly opening up again to donations.