Acrylic on canvas, 20x20in. - 2022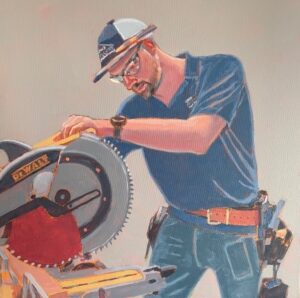 Ben has worked in The Mission's Maintenance Department for over six years. Maintenance ensures that all buildings and systems are in working condition through regular preventative and corrective procedures, as well as planning and upgrading systems to reduce the need for costly and time-consuming emergency repairs.
Maintenance is also responsible for renovations and expansion projects. In his time at The Mission, Ben has helped bring several projects to life, including: LifeHouse; second stage housing for LifeHouse graduates on their way to independent living; expansion of the primary care clinic to provide desperately needed healthcare services to people who are homeless and street involved; and the transformation of the former Rideau Bakery into Chef Ric's.
Trained in construction and general contracting, for Ben, working at The Mission is his way of giving back. "I like the opportunity to help people in need," he says.