Acrylic on canvas, 20x20in - 2022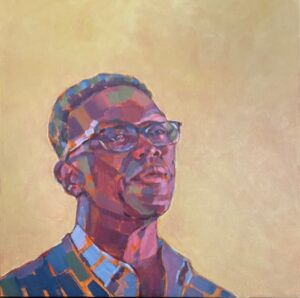 Anthony actively lives his deep faith through many channels. He is the Lead Minister at Parkdale United Church, a position he has held since 1999. The congregation is known for its spiritual vitality, community outreach, advocacy and justice work.
Originally from Barbados, Anthony has lived in various parts of Canada and the world. With a background in social work, international community development, ministry and university teaching, Anthony brings experience and commitment to advocating for vulnerable people. He also serves on the Board of the Parkdale Food Centre, is the Spiritual Advisor for Urban Christian Outreach and works with schools, churches and agencies around issues of racial reconciliation, diversity and intercultural competence.
Married with four children, Anthony has served on The Mission's Board for decades. He loves supporting the work and ministry of The Mission, and prays that God will inspire more people in Ottawa to support its work.