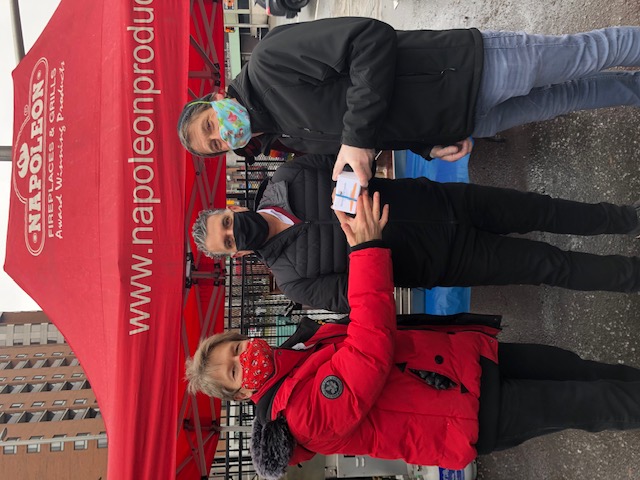 When it comes to helping the most vulnerable members of our community and inspiring others to do likewise, Ottawa philanthropist Gary Zed is a natural leader. Wanting not only to help those citizens most in need, but also support local businesses hit hard by the pandemic, Gary has launched a major fundraising campaign to help social service agencies, including The Ottawa Mission, to provide for the needs of those who are homeless, hungry and lost. Gary has donated $100,000 of his own funds to purchase the services of local businesses impacted by the pandemic and is calling on others in the community in a position to do the same.
Zed's generosity will provide desperately needed supports for our shelter guests and vulnerable community members in December and January, including:
A "Summer Festivus" BBQ on December 22. A special celebratory meal for our shelter guests and community members who access our community meal program, The Mission will grill mouth-watering fare from long-time Ottawa Mission food partner Capital Meats, and offerings from another long-time partner Orleans Fresh Fruit will also be on hand. The Grilling Gourmet Celebrity Chef Steph Legari will make a guest appearance and flip a few sausage on the grills provided by our good friend at Capital City BBQ, Chuck Shabsove.
Donations of winter boots. Many of those who come to The Ottawa Mission arrive here without proper clothing or footwear to protect them against the elements. In our bitterly cold winters, to be without protection from the elements is to be at risk for frostbite or worse. This year, providing winter footwear will be challenging because we've had to restrict accepting clothing donations because of the pandemic, so it's wonderful that Gary's donation will provide boots from local suppliers.
A gift of coffee cards to our shelter guests on Christmas day from our friends at Morning Owl Coffee on Laurier avenue. What a great way to start this very special day: a gift of a warm and comforting beverage.
One week of warm and delicious meals from our dear friend Chef Joe Thottungal from Coconut Lagoon and Thali restaurants within our new food truck. This project was launched less than four months ago: since that time, it has grown from five locations to now 13 locations across the city serving more than 2,000 meals a week to people who cannot make it to our community meal program at our shelter and would otherwise go hungry. As Brett, a food truck client noted, as a result of this program "I go two, three days without eating, sometimes four … I don't have to go hungry today". Joe's contribution to helping our clients supported by Gary's donation is particularly poignant given that the Coconut Lagoon was ravaged by fire this spring.
We could not be more grateful. Thank you so much Gary and family for supporting our clients and the wider community.