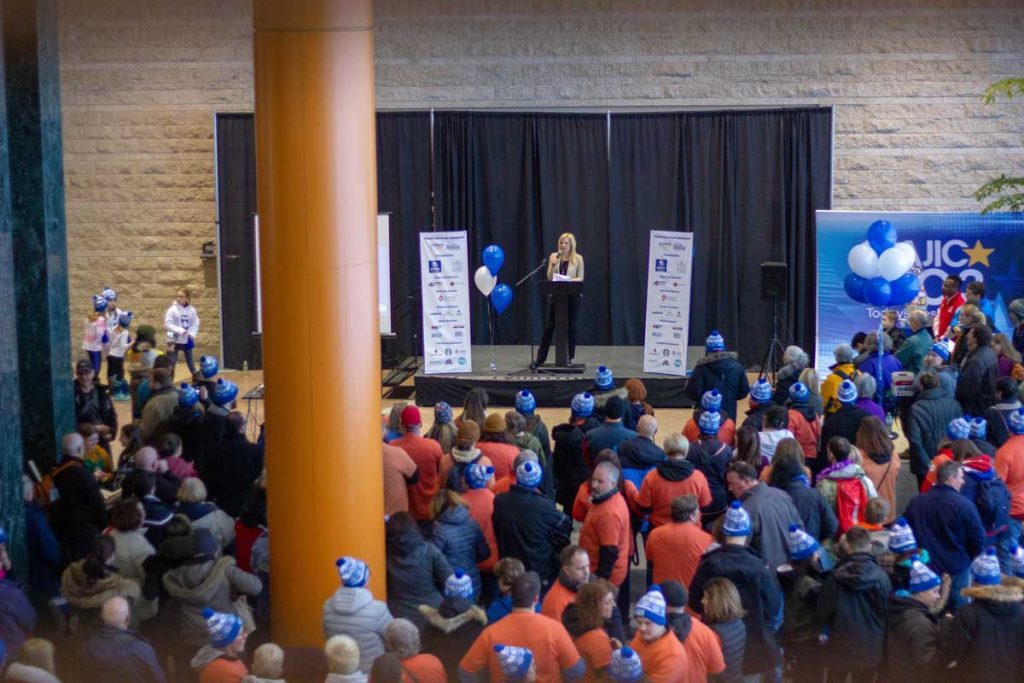 Ottawa, ON – On Saturday, February 23th, almost 400 supporters of and volunteers with The Ottawa Mission walked with thousands of others across Canada in 'The Coldest Night of The Year' (CNOY) event.
"Homelessness can happen to anyone in our community. The Mission offers hope to our most vulnerable members who are homeless or at risk of being homeless. Thanks to the generosity of our supporters, we provide food, shelter and life-changing programs to help them," noted Matt Triemstra, President of the Board of Directors of The Mission and a participant in the walk. The Mission has participated in the event since 2015.
CNOY is a family-friendly walk of 2k, 5k or 10k that provides people of all ages an opportunity to experience the challenges faced by those experiencing homelessness, especially during our cold Canadian winter. The 2019 walk was great success for the Mission, with $137,000 raised.
Lloyd Richards is one of the hundreds of people who came out to support CNOY. At age 79, he has participated in the walk since its inception five years ago. Lloyd was inspired to give back to The Mission by his late wife, Micheline, who was a lifelong advocate for the hungry, homeless and hurting. For Lloyd, supporting The Mission is a tribute to his wife's memory and a "spiritual journey" that enriches his life. Since 2015 he has raised thousands of dollars for The Mission through his dedicated participation in CNOY, as well as monthly giving. Lloyd is also a dedicated volunteer, helping to prepare and serve meals, and sorting and storing donated food in the stockroom.
"The Mission couldn't do the work that we do every day without our faithful supporters. Thank you from the bottom of our hearts to everyone in the community who came to support us for this walk," said Mr. Triemstra.
Go to https://cnoy.org/location/ottawadowntown to learn more about the Coldest Night of the Year.
About The Ottawa Mission
Since 1906, The Ottawa Mission has been serving the homeless, the hungry and the lost by providing food, clothing, shelter and hope. In 2017-2018, The Ottawa Mission sheltered an average of 236 men every night and served an average of 1,312 meals every day. The Ottawa Mission also provides health services, mental health support programs, addiction treatment programs, hospice care, dental services, educational support, job training, spiritual care, and men's clothing to thousands in need in our community.
FOR INFORMATION OR TO ARRANGE AN INTERVIEW, PLEASE CONTACT:
Ottawa Mission
Aileen Leo
Director of Communications
T: (613)234-1144 x 305
e-mail: aleo@ottawamission.com
Presented by:  Argos Carpets & Flooring and Olympia Homes