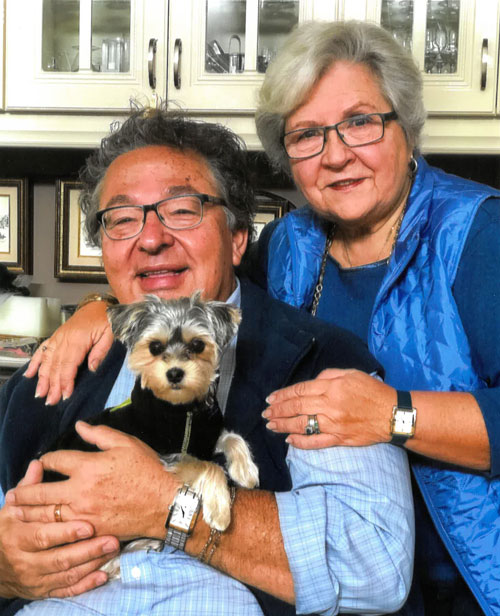 Lucian and Rita Blair have donated to The Ottawa Mission Foundation for 18 years — even though they both wish The Mission wasn't needed. Unfortunately, it is.
It was Lucian's work in local television that first brought The Mission and its work to his attention. He had no idea the difficulties the homeless faced, or their special needs, until he produced a news program on homelessness. Rita's work as a social worker at the Ottawa Civic Hospital brought The Mission's work to light as well. They discovered the impressive, comprehensive strategies it uses with the homeless and, as Lucian shares, "We were happy to offer our financial support." They do so in memory of their son Paul, who died in 2011.
The Blairs were born in northeastern Italy in an area that is now part of Slovenia. Their parents met in an internment camp, decided that their future lay in Canada, and immigrated in 1951. Rita's family moved to Montreal, while Lucian's family relocated to Toronto. Lucian and Rita connected again during Expo 67, began a friendship, and have now been married for close to 50 years.
The couple is clearly aware of what a good life they have in comparison to others. As Lucian shares, "Our gifts support The Mission's meal and rehabilitation programs and that pleases us."
They became monthly donors and more recently each has chosen to remember The Mission with another kind of gift — a legacy in their will. It was something they just knew they wanted to do. "We have no grandchildren", says Rita, "and we have absolute confidence The Mission will use our gifts creatively and well." Their future gifts are a percentage of their estates and have been left undesignated to be used where the need is greatest at the time.
Today, the Blairs are happily retired. Lucian spends time with his piano, making playlists for his friends, reading, and home maintenance. Rita is an avid bird watcher and enjoys gardening. They keep abreast of The Mission's activities and are happy to encourage their neighbours and friends to support the Mission as well. The Mission could not be more grateful for all their years of thoughtful help.
When asked what he would say to someone who is considering leaving a legacy gift to The Mission, Lucian is clear. "Just do it! The Mission does wonderful work that meets urgent needs. It is an organization most worthy of our help."
You too can support The Mission with a gift of any amount in your estate plans. Staff would be pleased to assist you in any way they can. And if you have already remembered The Mission with a legacy, would you let us know? We would like to thank you personally and ensure we use your future gift exactly as you wish.
On behalf of those we serve thank you, Lucian and Rita, for your generous support of The Mission in so many ways for so many years.