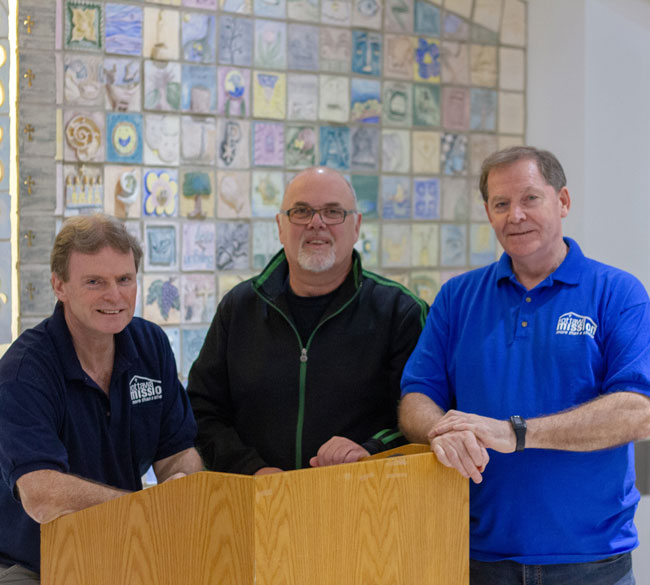 Just inside the front door of The Ottawa Mission is a small office that has a huge impact on the lives of so many of our clients – our Chaplain's office. This is a place where anyone can seek guidance, support and a sympathetic ear – and it's always busy! Beyond providing this dropin support, our Chaplaincy services – under the direction of Rev. Timothy Meisenheimer – conducts over 300 chapel services each year, organizes weekly spiritual discussions for staff, provides counselling and support to men undergoing trauma and addiction treatment, brings hours of solace to patients and their families and staff in our Hospice, and arranges memorial services for those who pass away in the Hospice.
In order to enhance the care provided by our Chaplaincy services, and to reach out to even more people who need this support, Timothy's Chaplaincy team has recently grown to include our two longest-serving employees, Bev Benson and Andrew Wright. Bev and Andrew have both been part of our Housekeeping team for 35 years. Their commitment to serving our clients is deeply rooted in their Christian faith. Either of them could have had other careers – but they chose to serve the most vulnerable people in our community.
In addition to their regular duties, over the years both Bev and Andrew have always helped out as needed with our daily chapel services and at memorial services, and shared the gift of their wonderful musical talents. As newly appointed Assistant Chaplains, their involvement is being formalized and, in addition to conducting Chapel services on a regular basis, they will each devote one day a week to seeing clients in the Chaplaincy office.
We can say without hesitation that this news has been enthusiastically received by both clients and staff at The Mission who recognize what special people we have in Bev and Andrew, and how blessed we are to have them among us.