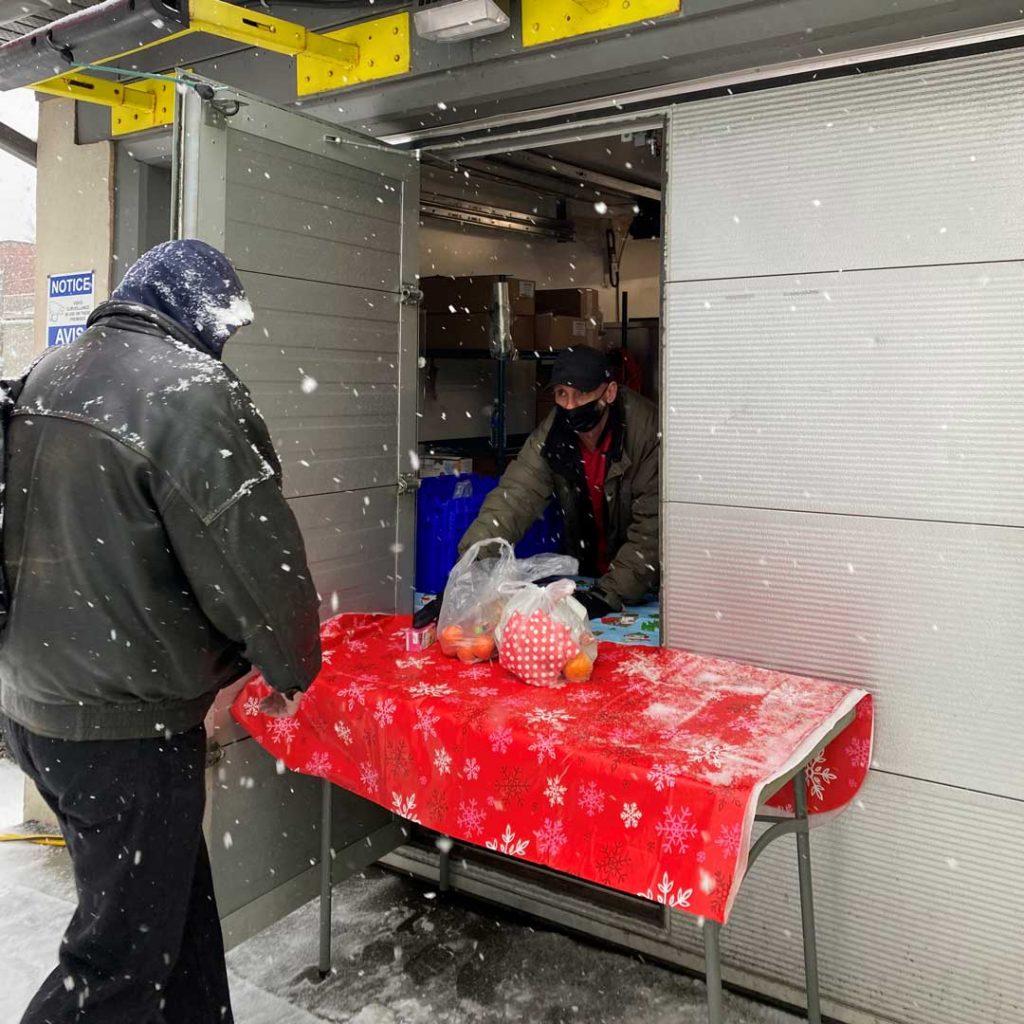 Ottawa, ON – During this Christmas season, The Ottawa Mission served an astounding 5,762 meals to people across the city of Ottawa, the highest total of special holiday meals ever in the shelter's history. Normally The Mission serves 2,000 – 2,500 Christmas meals each year. This year, the current pandemic has made hunger in Ottawa much worse, and in response, The Mission served a full Christmas meal with all the fixings to:
our shelter guests;
clients in our take-out community meal program (along with two other meals);
food truck clients from December 14 – 18;
clients within the Routhier Covid19 self-isolation centre and the Dempsey overflow homeless shelter;
residents within Ottawa Community Housing; and
other community organizations throughout the city.
"Our kitchen volunteers and staff worked very hard to ensure that everyone had a delicious and healthy Christmas dinner." says Chef Ric Allen-Watson, Director of Food Services at The Mission.
Also on the menu were: savory stuffing (70 pans); mashed potato (750lbs); glazed carrots (600lbs); vegetarian quiche (150 portions); fresh baked rolls (3,000–4,000 dozen); giblet gravy (65 gallons); vegetarian quiches (400); and bottled water and juice (1,500-2000 units; beverages were not served at the food truck).
"I've been at The Ottawa Mission for 19 years, and I've never seen hunger this bad in our community. I want to thank the people of Ottawa for their incredible generosity by donating so many turkeys, produce and other food items to ensure that we could help meet this need by providing a full Christmas dinner to so many people," Allen-Watson added. In addition to warm and nutritious food, the Christmas dinner provides a sense of shared community to those who may otherwise not only go hungry, but also find themselves alone.
"The pandemic has made a significant change in the daily operations of The Ottawa Mission, including the shelter's meal program to minimize the risk of Covid19 while delivering desperately needed food," noted Ottawa Mission CEO Peter Tilley.
"Poverty, homelessness and food insecurity are serious public health issues and have been made worse by this pandemic. We at The Ottawa Mission are doing our part to address food insecurity and keep people healthy through our meal program," Tilley concluded.
About The Ottawa Mission
Since 1906, The Ottawa Mission has been serving the homeless, the hungry and the lost by providing food, clothing, shelter and skills. In 2019-2020, The Ottawa Mission provided emergency shelter to an average of 197 men every night and served an average of 1,422 meals every day.  The Ottawa Mission also provides to men and women health services, mental health and addiction treatment programs, hospice care, dental services, housing services, educational support, job training, spiritual care, and clothing to thousands in need in our community. In September 2020, The Ottawa Mission marked the one millionth hour that the shelter has been in existence since its founding in 1906. In 2019, the Mission became a housing-focused shelter reflective of its commitment to a home for everyone as a human right with the launch of a new housing department.
FOR INFORMATION, PLEASE CONTACT:
Aileen Leo
Director of Communications
T 613.234.1144 x 305
C 613.712.3092
E-mail: aleo@ottawamission.com