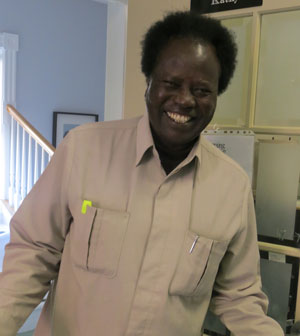 Deng first came to Canada as a political refugee from Sudan in 2000, landing in Vancouver and making his way to Brooks, Alberta where he worked in a meat packing plant. His experience as a civil society leader inspired him to join the fight for better working conditions and wages at the plant. The story was featured on the CBC news. Deng's activism, however, made for an uncomfortable relationship with his employer, so he pursued a new path, training in Calgary to become a personal support worker.
Deng found a job at the Queensway Carleton Hospital, but eventually returned home, motivated by patriotism, to support a new peace agreement. "I was elected Chair of Civil Society in the new South Sudan, a non-governmental organization," Deng says, "and I still hold that position." South Sudan is the world's newest country, founded in 2011 following decades of colonial rule and Africa's longest civil war.
Deng returned to Canada in 2017 with the help of the U.N. and Canadian Embassy staff, as political tensions required that he flee once again. "I was calling for support for the grass roots, but I was banned by the government and many things happened I cannot talk about," he says, "but I am working from here for change." Deng lived at The Mission for several months, where, "the first people to become my friends at the shelter and love me were Indigenous people," he recalls proudly. He eventually met Larry at St. Joseph's Supper Table in Sandy Hill where the retired teacher, and member of the parish, volunteers serving meals. The two men became friends and Larry welcomed Deng into his home, where he still resides.
Seeking to upgrade his education, Deng approached The Mission's Stepping Stones Learning Centre (SSLC). Kathy Cillis is the SSLC's certified teacher. "Sometimes students need to step away from education for some reason, but the door is always open," Kathy says. "It's a small classroom with a big heart, and a big impact." The symbol of the stone truly resonated with Deng. "I wanted to improve my English, so I met teacher Kathy at Stepping Stones," Deng shares. "When I was detained back home, I had a dream God told me I would be free when I receive a stone, and when I saw the painting of the stone [on the SSLC wall], I knew I belonged there."
Deng is a dedicated student at St. Patrick's Adult School, where he is working hard to improve his language and computer skills. His weekly ESL class with Kathy at Stepping Stones supplements those studies. Deng enjoys stories about inspirational figures like Louis Riel, Rosa Parks, and Nelson Mandela. Kathy recommends two articles a week from the ESL Library website and meets with Deng every Wednesday, these days by phone, to review homework and converse about the reading assignments. Housemate Larry serves as resident tutor and reports real progress in overall literacy.
It takes a community to successfully welcome refugees into Canadian society. Stepping Stones is an integral part of that process for many refugees seeking a new life in Canada. "I want to thank God, the indigenous people, churches, and The Mission for welcoming me on Canadian soil," Deng says. "I'm proud to be Canadian, and with your help, I work to bring what I am learning about democracy and civil society here in Canada to my people in South Sudan."
Your generous donation helps individuals like Deng overcome the anxiety of forced displacement and find hope in a new country. You are a part of his extraordinary story.