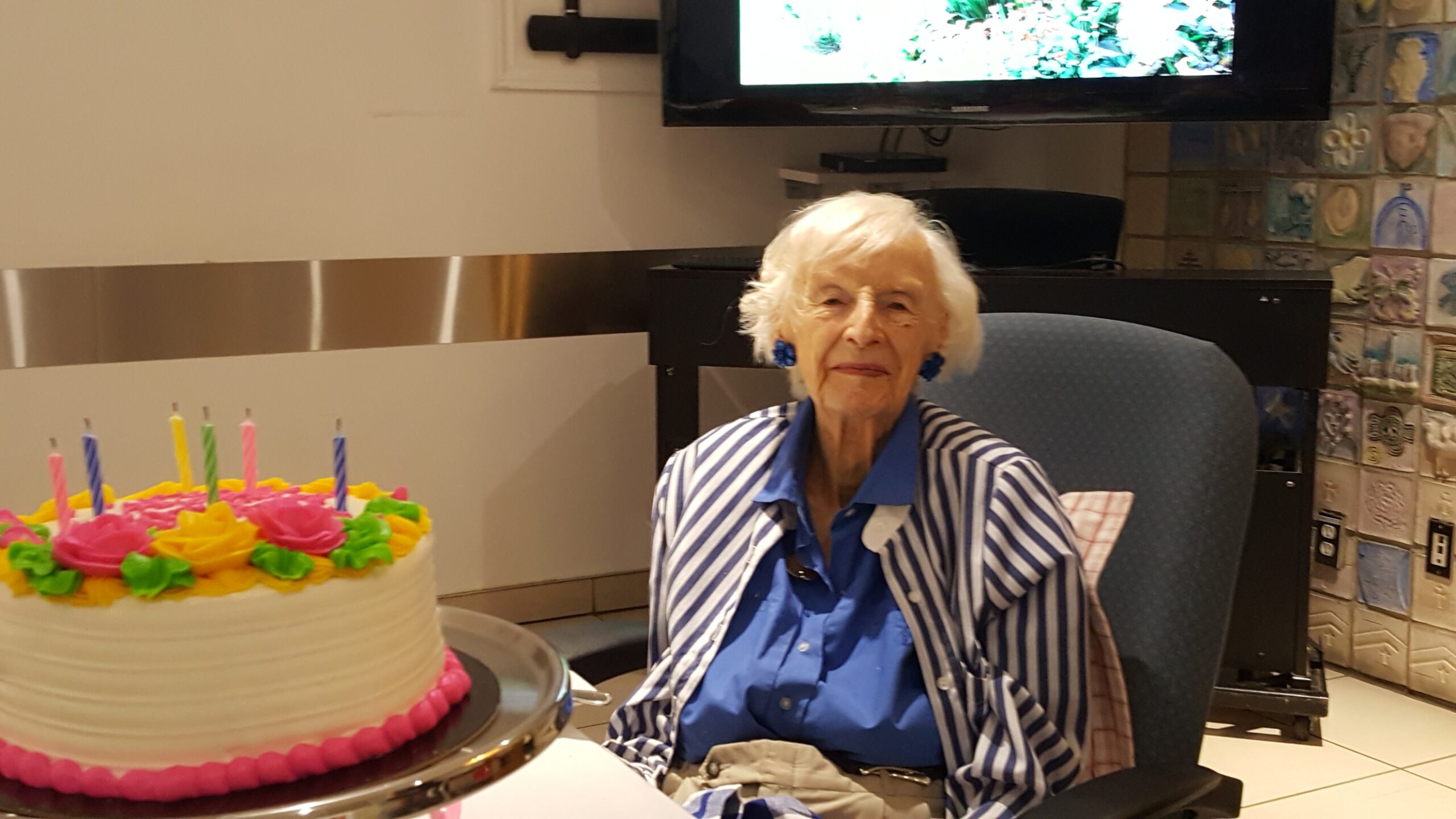 Remarkable Woman. Remarkable Life.
Joan Michie McRae lived a life of vitality —and of giving back—for all of her 103 years.
Born near London, England, in 1916, Joan came from a family with roots in New Zealand and Australia. She graduated from Beneden School in 1932. From there, she attended secretarial school and held increasingly responsible positions living in London. Joan always worked hard at her job but still managed to lead a glamorous life with her flaming red hair. At the outbreak of World War II she decided to remain in London to support the war effort and later survived numerous close calls during the Blitz. It was at a dance organized to support troops on leave that she met a young Canadian officer George (Bud) McRae. It was love at first sight, and they were married in April 1944, having known each other for just over four months. She always said that you had to move fast in those days as you never knew if there would be a tomorrow!
Following the war, Joan came to Canada as a war bride to live in Campbellton, NB, George's hometown. Then, with two children in tow, she and her husband lived in communities throughout Canada as Bud pursued his career as an engineer while Joan focused her efforts on raising a family. After receiving a small inheritance in the 1960s, she became interested in investing and, according to her son Paul, she became good at it. The McRae's retired to Ottawa in the early 1980s and that's when Joan's association with The Ottawa Mission began.
According to her son Paul, "our mother had a strong social conscience. She had lived a good life and knew it and because of this, she was committed to giving back. The Ottawa Mission was one of her favourite charities." Joan generously supported The Ottawa Mission financially for years. She had a deep respect for the work done to help people who are homeless and disadvantaged and she greatly admired the staff for their dedication. Of particular interest for her at The Ottawa Mission were its education programs and supportive housing for men in recovery. Her support provided hope and transformation for countless individuals.
After Joan died in January 2020, Paul McRae made a gift from her estate to The Ottawa Mission on behalf of the McRae family. Part of the gift was used for general purposes and part went to the Joan McRae Fund, a named fund that Joan had created through gifts of securities during her lifetime. "This was as she would have wished," says Paul. "My mother believed in paying things forward. She wanted to make a difference and was happy to support work she could not undertake herself." And for this, The Ottawa Mission could not be more grateful.
Won't you join the McRae family and remember The Ottawa Mission with a gift in your own estate plans? Your gift may be for any amount and directed to whatever area of The Ottawa Mission's work you wish. We encourage you to call us to discuss options and to ensure we use your future gift exactly as you wish.Christina Hunter Cadieux, Planned Giving Officer at 613.277.4902 and chuntercadieux@ottawamission.com would be pleased to speak with you.
Thank you to Joan McRae for her years of support for The Ottawa Mission and thank you to her son Paul who, through his gift from her estate, ensured his mother's support continues long into the future.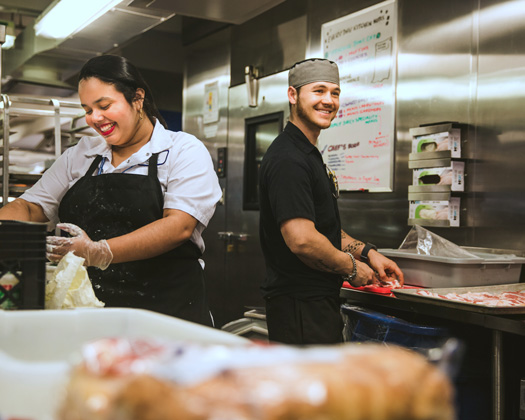 Preserving Your Intent
All of us at The Ottawa Mission are very grateful for the support we receive from donors like you. We gratefully receive your gifts in a variety of ways, including legacy or planned gifts. When it comes to leaving a charitable gift in your will, it is important to consider the most tax-effective options that best suit your needs and philanthropic intentions.
When donors plan their legacy giving, they often decide to leave The Ottawa Mission a lump sum. These gifts are based on the perceived value of their estate when their wills are prepared and reflect the donors' intentions at that time. The majority of Canadians, however, have assets whose value grows over time. For example, a home can increase in worth as can savings or investments. If wills are not updated regularly and specific gift amounts changed, those amounts will become a smaller and smaller share of the estate's growing worth. This in turn will alter both the original value of the gift and its future potential impact.
To avoid this, many of our donors now express their gift as a portion or percentage of their estate rather than as a specific amount. A gift structured in this way will grow over time as your estate increases in net worth. The gift's ultimate value will continue to match the proportion that you have in mind when the gift is created.
We welcome all legacy gifts of any amount. As one of our respected donors, we would encourage you to preserve your generous intent by expressing the gift as a percentage of your estate. In this way all that you value – your loved ones and charities such as The Ottawa Mission – will be protected. It's a simple approach that can make a world of difference.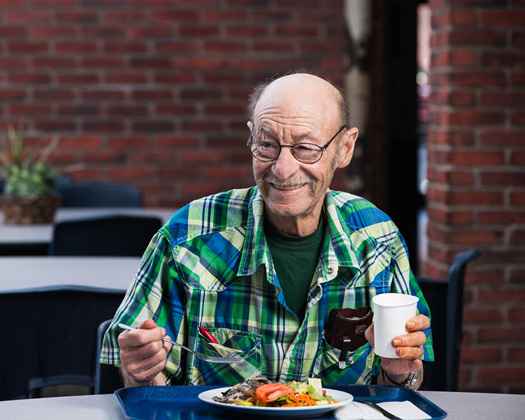 What's In A Name?
It is said that legacy giving represents the joy of living, fulfilling a life-long desire to do something bigger than what we may currently be able to do. Establishing a named endowment fund with The Ottawa Mission may be a great option for you to consider.
A named endowment is like an individual savings account with The Ottawa Mission. We keep and wisely invest the money you donate and use the income to make a real difference for The Ottawa Mission in an area of your choosing.
You may establish a named endowment with an upfront gift now and/ or gifts made over time. Many choose to make gifts to their endowments annually, on significant dates and/or in honour of someone special. Many also choose to augment their named endowments through a charitable gift in their will or with some other type of legacy gift. You may name your endowment any way you wish, for example in memory of a loved one or with your family's name.
With a named endowment, you will have the satisfaction of seeing your fund grow over time and in knowing that it will provide stable, ongoing income that will help us serve our community better. In this way, your generous annual support of The Ottawa Mission will continue for years to come.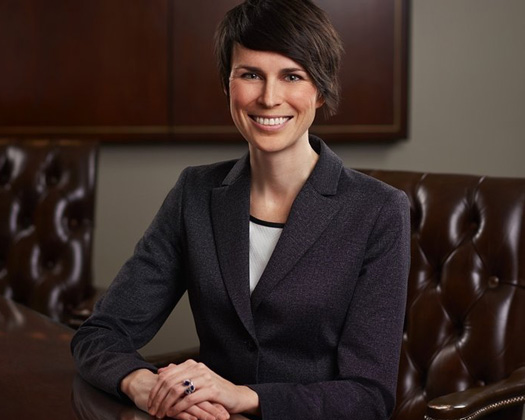 Decision Making! Making That Decision To Give
Donors tell us how much they value and deeply appreciate The Ottawa Mission and our ongoing efforts to provide a safe and supportive environment for those experiencing homelessness. They also strongly support the leadership in providing essential social services for our community. Many have also shared they would like to do something beyond their annual donation but feel limited by current circumstances.
Dreams can be achieved and one way that anybody can make a significant impact is by remembering The Ottawa Mission with a charitable gift in their will. This is a perfect way to ensure your support continues well into the future. It's a way to give more than most of us could manage during our lifetime. It's a way to make a difference.
If leaving a gift to The Ottawa Mission in your will resonates with you, here are a few things to consider.
EACH GIFT IS IMPORTANT, NO MATTER THE SIZE
Even with leaving a legacy in one's will, some think the amount they could give after ensuring loved ones are cared for would be too insignificant. Not so! Every gift matters, regardless of size, and every gift helps The Ottawa Mission. Most of all, we deeply appreciate the thoughtful intention behind your planned gift.
YOU CAN DECIDE HOW YOUR MONEY IS USED
By designating a gift for a specific area of The Ottawa Mission's work — for example the palliative care hospice — you will provide tangible support for programs that are important to you and for the guests of the shelter. The Mission team would also be happy to collaborate with you to ensure we use your gift just as you wish. In this way, you will enable programs such the provision of food and temporary shelter, rehabilitation, dental and medical care, and other vital services to continue for those transitioning to wholeness. People have also left undesignated gifts for The Ottawa Mission to use where the need is greatest at the time. We are grateful for all legacy gifts and promise to use them according to your directions.
YOU CAN MAKE A GIFT WITHOUT REDUCING WHAT YOU LEAVE TO OTHERS
When it's properly arranged, a gift in your will can reduce taxes and essentially redirect those taxes to the charity. This results in a benefit to your community while minimizing the tax burden to your estate for your loved ones. Every estate can benefit by planning ahead. Yours can too. Your lawyer, accountant or financial advisor can show you how to help The Ottawa Mission and concurrently reduce the impact of tax on your estate. It's a win-win.
YOUR INTENTIONS AND PERSONAL INFORMATION ARE ALWAYS CONFIDENTIAL
The Ottawa Mission will ensure your philanthropic wishes are met and that your personal information is kept confidential. We would be happy to recognize your gift or you may remain anonymous. The choice is yours; you always remain in charge. We simply want to help you create a gift that works for you. A legacy in your will can be one of the most meaningful gifts you will ever make. As part of the process, we encourage you to seek the advice of your professional advisors but we are also here to help.
Becky Turcotte, CPA, CA, TEP, CLU is a Vice President, Estate & Succession Planning with The Millar Corporation. Becky is a member of The Ottawa Mission's Allied Professionals Network. This group of volunteers from various professions – law, accounting, financial planning – bring their professional knowledge and technical expertise to The Mission's legacy giving program.