Are you interested in holding an event for The Ottawa Mission?
A personal fundraising page is a great way of connecting with friends and family online to encourage them to donate to The Ottawa Mission. You can create a personal fundraising page for any occasion! With the help of our fundraising tool you can easily keep track and send e-mail to friends and family, upload photos, send reminders and so much more!
Upcoming Events
Coldest Night of the Year
Coldest Night of the Year is a family-friendly walking fundraiser for the homeless. As a walker, you will experience a hint of the challenges faced by people who are homeless in the winter while raising much-needed money for people in need in our community.
Join us on Saturday, February 24, 2018 and walk 2k, 5k or 10k to support The Ottawa Mission. Individuals or teams are welcome.
For more information, visit coldestnightoftheyear.org/ottawamission or contact Leila Jakubinek at 613-234-1144, ext. 236 or ljakubinek@ottawamission.com.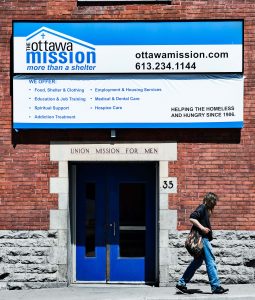 The Ottawa Mission's Speakers Series
The topic is Discovery University.  Speakers for the evening include Discovery University's Program Coordinator Aneesha Sidhu and program volunteer Mark Ingham.  Aneesha will provide an overview of the Discovery University program.  Mark Ingham is a PHD student in education who has done extensive research on various aspect of learning.  He will speak about Discovery University through the lens of some of the educational research that is out there.   He will touch on some of the unique aspects of this program and some of the factors that attribute to the learners sense of community and how this program is enriching their lives.
Please RSVP at volunteer@ottawamission.com
Monday,February 26, 2018
7:00 PM – 8:30 PM
The Ottawa Mission Dining Room
Volunteer Orientation
The next information sessions for people considering becoming volunteers at The Ottawa Mission are taking place at 7 p.m. in the shelter dining room on the following dates:
Monday, March 7th
Friday, April 13th at 1:30pm
2018 HOPE Volleyball SummerFest
HOPE has chosen The Ottawa Mission as one of their charity recipients for the 2018 HOPE Volleyball SummerFest. HOPE is committed to raising money for local Ottawa charities and over the years has donated more than 3.5 million dollars to over 110 charities. Their moniker of "Helping Other People Everywhere" is never more apparent than in the work that they do every year to put on the SummerFest to help worthy organizations.
HOPE Volleyball SummerFest will be taking place Saturday, July 14, 2018.
Registration opens May 1, 2018 – visit hopehelps.com for more information.
Lawyers "Feed the Hungry" Monthly Dinner

3rd Thursday of every month

Members of Ottawa's Legal community come together every month to volunteer their time and money for the "Ottawa Feed the Hungry Program".