Are you interested in holding an event for The Ottawa Mission?
A personal fundraising page is a great way of connecting with friends and family online to encourage them to donate to The Ottawa Mission. You can create a personal fundraising page for any occasion! With the help of our fundraising tool you can easily keep track and send e-mail to friends and family, upload photos, send reminders and so much more!
Upcoming Events
Volunteer Orientation
The next information sessions for people considering becoming volunteers at The Ottawa Mission are taking place at 7 p.m. in the shelter dining room on the following dates:
Wednesday, December 13th
Wednesday, January 10th
The Ottawa Mission's Annual Christmas Dinner

Sunday, December 17, 2017
11:30 am – 5:00 pm
Ottawa Mission Dining Room
Please enter through entrance at 35 Waller Street.
*Note: all of our volunteer needs for this year's Christmas dinner have been met. If you're interested in volunteering in the future, please visit the Volunteer Opportunities page for further information.
Lawyers "Feed the Hungry" Monthly Dinner

3rd Thursday of every month

Members of Ottawa's Legal community come together every month to volunteer their time and money for the "Ottawa Feed the Hungry Program".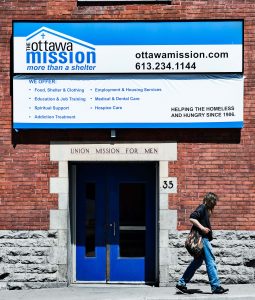 The Ottawa Mission's Speakers Series
The growing fentanyl crisis and its impact on our community.

Monday, January 22, 2017
7:00 pm – 8:30 pm
Ottawa Mission Dining Room
Please enter through entrance at 53 Daly Street.
Coldest Night of the Year
Coldest Night of the Year is a family-friendly walking fundraiser for the homeless. As a walker, you will experience a hint of the challenges faced by people who are homeless in the winter while raising much-needed money for people in need in our community.
Join us on Saturday, February 24, 2018 and walk 2k, 5k or 10k to support The Ottawa Mission. Individuals or teams are welcome.
For more information, visit coldestnightoftheyear.org/ottawamission or contact Leila Jakubinek at 613-234-1144, ext. 236 or ljakubinek@ottawamission.com.