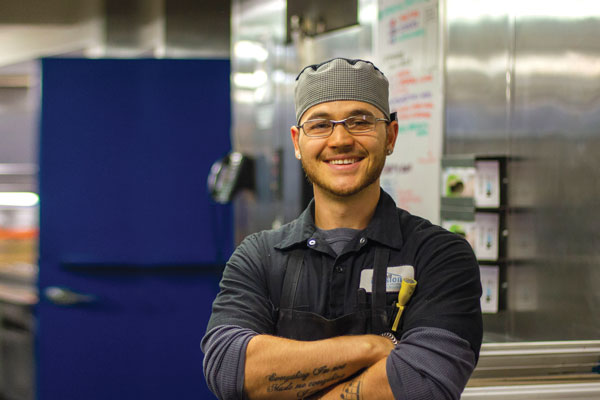 At 26, Dylan has had a lot of pain and hardship in his life. But, in recent years, he has also accomplished more than he ever dreamed possible! And he credits The Ottawa Mission for giving him life-changing support and inspiration when he needed it most.
Dylan fell into a life of alcohol and drugs when he was very young. Then he found himself involved in a situation that threatened to destroy any chance for him to succeed in life. He had to spend time in jail, and his sense of guilt and remorse was overwhelming. He was just 18.
It was during this time that Dylan's path towards redemption and hope began – with the ongoing love and support of his family. He studied hard and achieved his high school diploma (he had only been in school up to grade 7). He also worked in the kitchen – where he felt peaceful and productive. When he was released, a vocational counsellor suggested he look into The Mission's Food Services Training Program (FSTP). The rest, as they say, is history.
In the FSTP, Dylan not only embraced the hard work and long hours, but he also felt part of something special at The Mission. He looked around him at people who were homeless and hurting and felt nothing but compassion. And, for the first time in his life, he didn't feel judged – his healing had truly begun.
After graduating from the FSTP in 2016, Dylan enrolled in Algonquin College's Culinary Management Program which he completed 2 years later on the Dean's List and Honour Roll! Dylan had no doubt where he wanted to put his education to work and, as chance would have it, there was an opening in the kitchen at The Mission. He will soon be celebrating 7 months on the job.
This Christmas will be special for Dylan as he reflects on the past few years with great gratitude for The Mission, and for your support. It's been a remarkable journey for a remarkable young man.