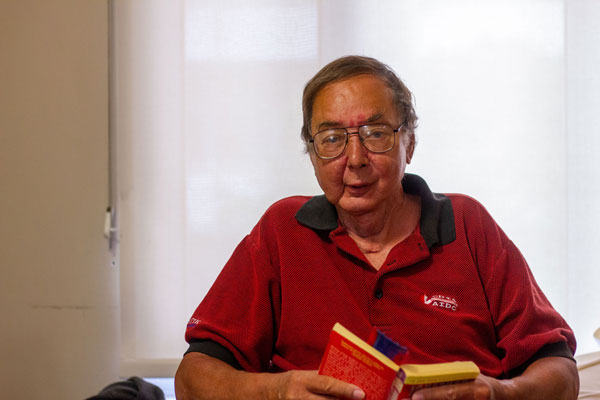 At The Mission's 21-bed Diane Morrison Hospice, the first and largest facility of its kind in Canada, we provide 24-hour care for people who are homeless or street involved and who are either chronically ill or facing the final days of their lives. Over the last year, 20 men and women passed away at the Hospice in our loving care. Because of you, we are able to provide people with crucial physical, emotional and spiritual support at every stage of their illness – as we are doing for Doug.
A housepainter by trade, Doug retired a few years ago, but he remains enthusiastic about his former career – and highly recommends "Eggshell" as his paint finish (not colour!) of choice.
Doug was transferred to our Hospice from a local hospital 14 months ago. He came to us because he had no family in Ottawa, couldn't look after himself, and had nowhere else to go. He uses the word "extraordinary" to describe the nursing staff and volunteers, and appreciates the cleanliness of the place and the food. He also enjoys the freedom he has to go outside when he feels like it – when he's not immersed in reading the latest suspense novel. He describes Dr. Douglas – who visits him at the Hospice regularly – as "young, but he knows what he's doing!" Doug has also met a few friends who have been staying at the shelter who take him in his wheelchair around the neighbourhood if the weather is nice, and he appreciates their kindness as well.
People like Doug are cared for with compassion and dignity because of your support, and for that, Doug is deeply grateful.