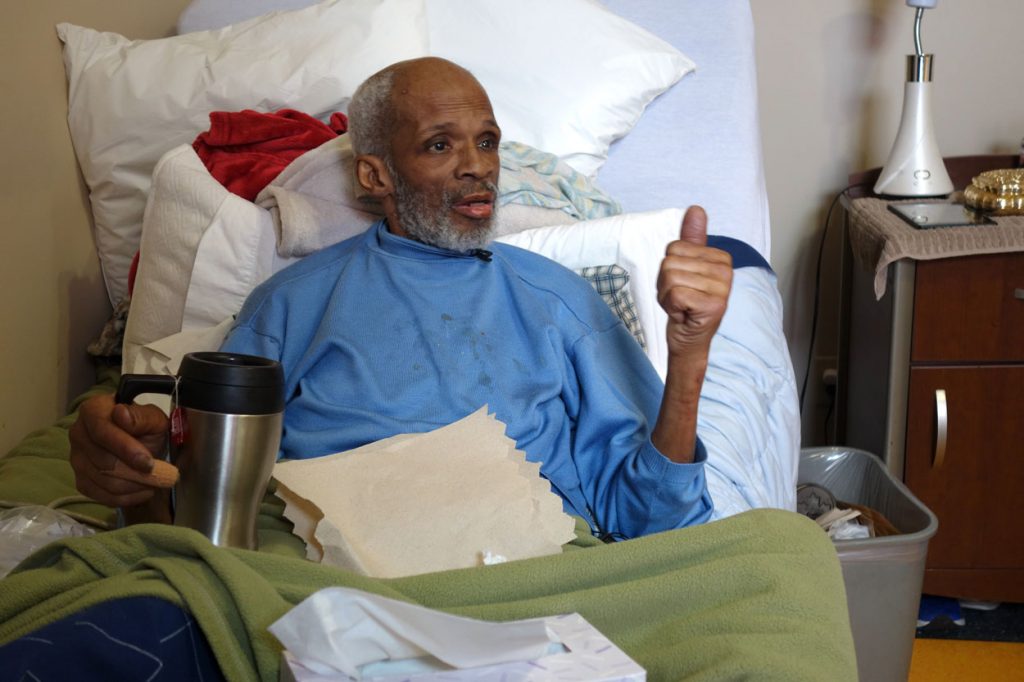 It is a matter of human dignity that no person should have to face the end of life alone. The Ottawa Mission's Diane Morrison Hospice was founded by our retired Executive Director in 2001 to ensure that individuals in its care will be honoured in their final days. It is a unique facility and the first and largest of its kind within a shelter in North America, offering 24-hour palliative care to men and women who are homeless and dealing with a terminal or serious chronic illness. The 21-bed ward operates in partnership with Ottawa Inner City Health, a recognized leader in health and hospice care for the homeless, and is staffed by nurses, client-care workers and other health care professionals.
Yetty is the administrative coordinator of the hospice. She describes the fundamental belief behind all hospice practices as being centred on caring for the individual in a manner that takes a person's sense of themselves into account. "What distinguishes The Mission's care from other palliative care facilities is that we not only cater to people who are homeless or street involved, but who have been diagnosed with a terminal illness," Yetty says. "We also support individuals who are terminally ill but are unable to access palliative care elsewhere due to addiction issues."
Hospice staff work to foster a feeling of inclusion and a sense of worthiness and personal accomplishment while striving to lessen depression and enhance relationships within the patient's community, including family members. Yetty describes "a holistic palliative care approach to support our clients' needs, namely physical, emotional, psychological, and spiritual support, during their stay with us. In addition, our hospice is a non-judgemental environment where our clients can be themselves and are treated with dignity, love, and compassion." The Hospice offers a range of mainstream and alternative therapies, and hosts special celebrations for its guests at Easter, Christmas, and Thanksgiving.
In 2019-20, 59 patients were admitted to the Hospice and 30 men and women spent their final days in its loving care. Joseph was a 58-year old man who spent his near-motionless days reflecting back on his life. Colon cancer had dramatically shortened that life. Joe was born in Africville, the old ghetto in Halifax first settled by British slaves in the 18th century. He vividly recounted the pain induced by racist taunts uttered well into the 20th century. Memories of his grandmother caused Joe's eyes to well up with tears. His dad was a conductor on the CN train route between Halifax and Montreal, running through what Joe described as "God's country". He described his father and his childhood home life in less flattering terms.
Joe moved to Toronto in his teens with the woman with whom he would have his large family. Photos of his handsome descendants, children and grandchildren cuddled up in happy groups, hung on the wall of his hospice room. Joe believed he tried his best as a dad, working at the Sheraton Toronto Centre hotel for many years, but a crack cocaine addiction ravaged his body, mind and home life. His family, now spread across Canada, could only drop by his room occasionally where they found a frail frame and a weakened spirit filled with regret.
"For The Mission to bring me back here, to show me the love and the care they show me now, I don't know," said Joe. "I tell you, without this place, where would we well be!?"
Hospice staff are steadfast in the belief that all persons are entitled to dignity and that no one should die alone. Guests who spend their finals days in residence consider The Mission to be their final home and, in many cases, the care staff to be their family in spirit. A memorial service is always held in the chapel offering an opportunity for friends, family and staff to share grief and memories. Names are also added to the Wall of Remembrance.
The staff and volunteers of The Diane Morrison Hospice are able to provide this sensitive caregiving because of the generosity and kind hearts of donors like you. Your gift of support ensures that guests who seek solemnity in the closing days of their lives shall receive it. These human souls are deeply thankful for your compassion.