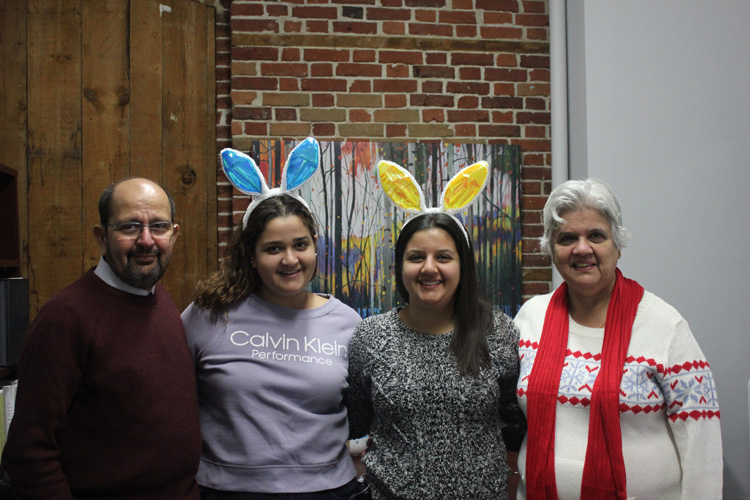 Volunteers are the heartbeat of The Ottawa Mission.
In fact, more than 250 volunteers come by The Mission each week to help with everything from meal preparation and serving to providing tutoring services for the Stepping Stones Learning Centre.
Individual, group, and corporate volunteers are all invited to come and share their love and time. But there is one group, a family of five in fact, who regularly devote their time and effort to support the ongoing work of The Ottawa Mission.
Irene and Viraf Mahava came to Canada from Mumbai, India where they met and eventually had a family; namely, Hufarish, Ferzin, and Anita.
Mum and Dad instilled in their children's hearts a life-long family belief in sharing what they could with the community.
As so often happens, busy lives grew busier. Irene worked as a financial advisor and Viraf spent long days managing the dry-cleaning business he started when he first settled in Canada. The kids were off at school.
Schedules and demands meant that volunteering for the Mahavas, individually and as a family, slipped by the wayside for a few years.
But, sometimes it takes a shock in life to remind us of what is important.
For the Mahavas, that shock struck in 2014 as a serious illness that turned their world upside-down. But adversity touched their hearts, and they once again gathered together in a commitment to give of their time and energy for a greater cause.
That was when, as Anita tells it, the Mahavas found The Ottawa Mission.
"The welcoming atmosphere, the thankful and kind clients, and the incredible staff is what keeps us coming back," Anita shares. "We don't think we would be able to call it a holiday if we didn't get to come and spend time at The Ottawa Mission. It has become our family's favourite tradition, and as our family continues to grow, the part we look forward to most is bringing them to The Mission and showing them what an incredible community we have the honour of being a part of."
This kind-hearted family is already looking forward to returning to The Mission to serve up a delicious Easter meal to our guests.
Sincere gratitude to the Mahavas and all of our wonderful volunteers and donors who make all the difference!