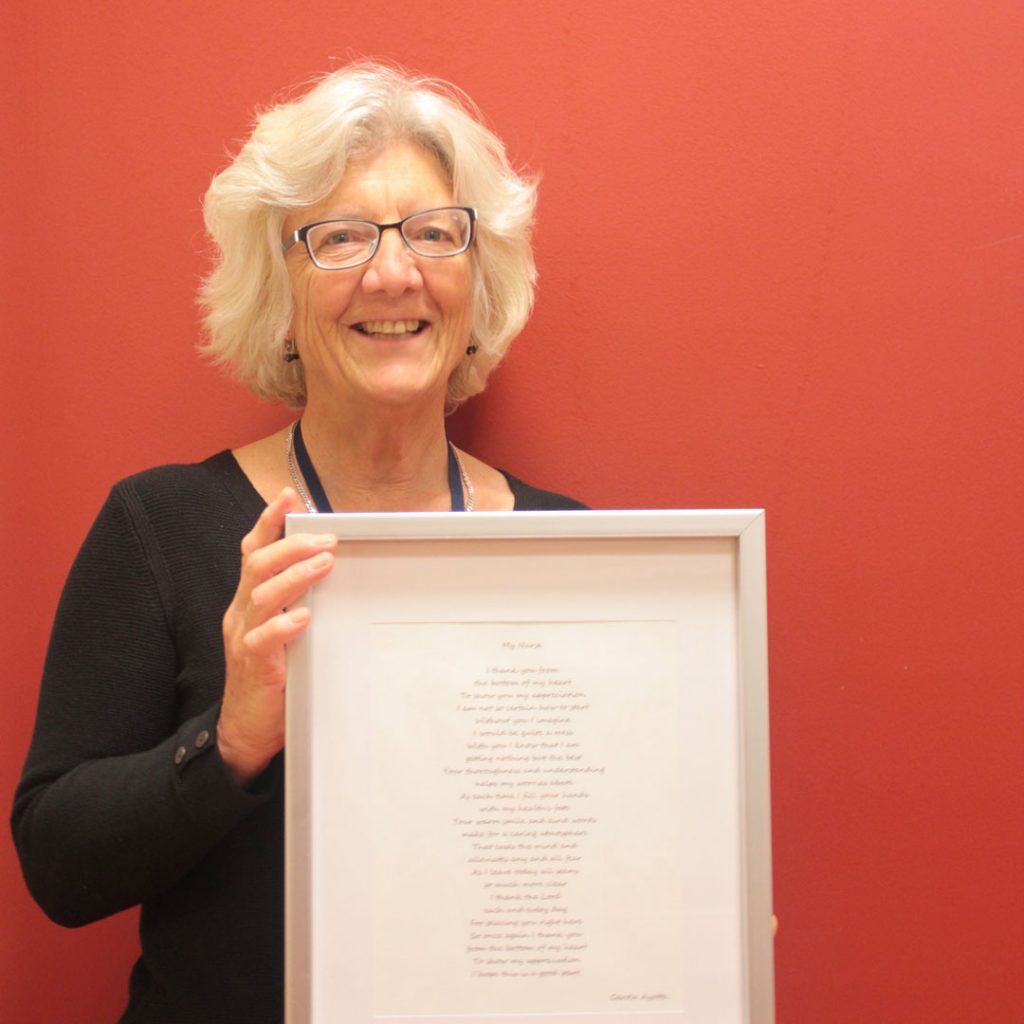 Nurse Practitioner Cynthia with Carole's Poem
Carole suffers from multiple health issues and is unable to work.  For many years, she did not have access to a family doctor and had to rely on drop-in clinics to meet her increasingly complex healthcare needs.   She often had to visit different clinics, and because she suffers from anxiety, this was yet one more stressful situation for her to bear. Carole has been a grateful client of The Mission's Primary Care Clinic since its doors opened in 2007, and she visits at least once a month.
"The service at The Mission's clinic is incredible. The staff is very friendly and welcoming, and the care is wonderful.  They all know me and my medical history, and they treat me with kindness and compassion.  They have also given me referrals to other medical facilities for tests and follow-up treatment. At The Mission's clinic, I know I'm getting the best possible care. I know everyone there and, for me, it's my safe place," says Carole.
As an expression of her gratitude for all the help she has received at the clinic, Carole wrote a poem to her nurse – and we'd like to share an excerpt with you.
Your warm smile and kind words make for a caring atmosphere
That eases my mind and alleviates any and all fear
As I leave here today all seems so much more clear
I thank the Lord each and every day for placing you right here
The Mission has begun work on the relocation and expansion of the clinic, and the new facility expects to be able to serve double the number of people as it does now.  When Carole learned about this, she was very excited.  "Knowing that the clinic is growing and improving is very good news, for me and for hundreds of others who have come to rely so much on this wonderful place."