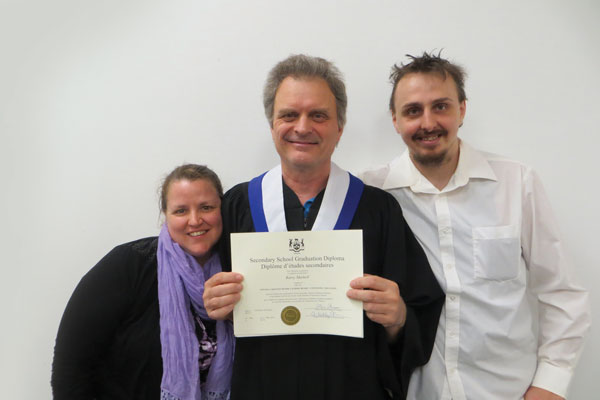 We first told Barry's story in 2017 when he came to us looking for help. After 14 years working as a window installer, the company closed its doors. Then he had some serious medical problems that left him unable to work. For the first time in his life, Barry found himself needing social assistance to make ends meet. As time went by, Barry's health improved, but he couldn't find work – mostly because he wasn't sure how to do a good job search. And he hadn't been to school in a long time!
The Mission's Client Services Centre provides a variety of support to people who are struggling – among them education and training opportunities at our Stepping Stones Learning Centre (SS LC). Staff in Client Services and SS LC helped Barry in many ways – building a solid resume, providing training in computer basics, and giving him hands-on assistance with his job search. Barry found a job. In fact, he found more than one, but continued to enjoy his visits to the classroom and all that he was learning. It was time for a new challenge!
Even though Barry did not initially indicate earning a high school diploma as one of his goals, his comfort in the classroom and his newfound confidence led him to revisit the idea. We ordered his transcript and soon found out that he had only one high school credit to go before achieving his diploma. In January 2018, Barry registered for ENG4E, a Grade 12 English course that would complete his credits.
Barry worked hard with our teacher at SS LC, and on June 13, 2019, in front of his son and daughter (see photo), friends, and proud Mission staff, he walked across the Ottawa Carleton District School Board's Continuing Education stage to receive his high school diploma. At 58, Barry has achieved a major milestone in his life that he never imagined was possible, and his future looks brighter than ever.