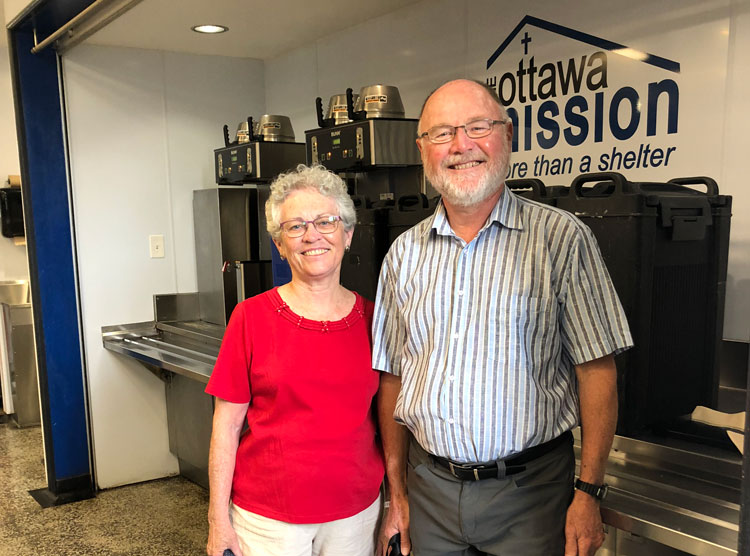 Anne and Phil Nagy are retired, but certainly not idle. Every week they volunteer in the kitchen at The Ottawa Mission, helping to serve 1,312 meals a day to people in need.
As residents of Sandy Hill, Anne & Phil wanted to support their neighbourhood community directly, and they came to The Mission after speaking to a friend who volunteered here. "The volunteer experience at The Mission is exceptional," Phil says. "We've volunteered for several organizations and, at The Mission, volunteers are treated very well and the staff makes it their business to ensure that you're busy with meaningful work for each shift." "Working with Chef Ric in particular to make this happen is really fantastic," Anne adds.
In addition to giving the gift of their time every week, Anne and Phil are also generous in their financial support of The Mission. They have been monthly donors – "Champions of Hope" – for more than 15 years! This kind of faithful support is so important in keeping our doors open 24/7, 365 days a year for all who are hungry, homeless and hurting.
Beyond all this, Anne and Phil blessed us with a very special gift in 2018. They celebrated their 50th wedding anniversary last year and decided to mark the occasion by providing a meal for hundreds of clients at The Mission. "We wanted our anniversary to be meaningful," Anne says. "And, after we gave it some thought, we decided that this option was perfect."
What a wonderful gesture from a wonderful and generous couple!