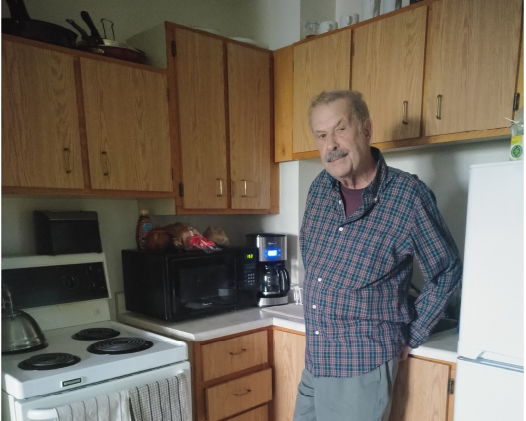 Garry has lived in many different places in North America and worked many kinds of jobs – including at an airport, a hospital and a telecommunications company. He first came to The Mission when he was in his early seventies and in need of a place to stay.
"A friend of mine recommended it to me, and it was actually a very pleasant experience, all things considered," he says. "I was quite astounded, really – the food was superb."
He decided to seek treatment for an alcohol addiction while staying at The Mission. After completing two programs, he worked with Mission staff to find and furnish an affordable apartment. He's still there today, and he hopes to stay as long as he can.
"It's all quite comfortable," he says, sharing photos of his kitchen and living room during a visit to The Mission. "I'm all established now with furniture and everything."