Sharing Hope & Joy This Holiday Season
"For to us a child is born, to us a son is given; and the government shall be upon his shoulder, and his name shall be called Wonderful Counsellor, Mighty God, Everlasting Father, Prince of Peace."
–

Isaiah 9:6
How often do we hear people being called names, whether in fights, on the internet, in politics, and even in our own heads? Names can pull us down, or they can lift us up. At Christmas, we welcome the child called "Wonderful Counsellor" and "Prince of Peace." These are names that resonate at The Ottawa Mission, where we depend on transcendent comfort and mercy on a daily basis.
Of course, this Wonderful Counsellor has names for us, too, whether we're clients, staff, volunteers or donors of The Mission: Beloved, Worthy, Chosen, Wanted. These names remind us that we're all equal in dignity and each of us is worthy of love. As we read in Romans 12:10, "Love each other with genuine affection, and take delight in honouring each other."
We need this reminder all the more in this season when so many feel alone. Thanks to your support, we're able to make Christmas a special time for the people who stay with us at the emergency shelter, in our treatment facilities or in one of our housing programs, and also for those who depend on us for daily or weekly meals. If there's one thing I believe we've learned from the pandemic, it's just how much we need each other.
As you know, 2021 has been a challenging year for us, with on-site Covid testing, vaccine clinics, widespread issues of mental health and addictions, and increased homelessness and hunger. Through it all, you've supported us to walk alongside some of the most vulnerable people in Ottawa.
In this newsletter, you will read the stories of Karen, Peter, Michael, Patrick and Erica. Each of them came to The Mission for a different reason, and each of them brings something unique and special to our community.
On behalf of our board, staff, volunteers and (most importantly) our clients, thank you for your support, and Merry Christmas!

Christmas Hope for Karen
Karen* is one of the residents in our Diane Morrison Hospice. She arrived in early 2020 after spending Christmas and New Year's in hospital. "I was in a bad way health-wise," she explains.
Karen used to be an educational assistant, but her career ended when the hiring demands changed to require a degree. After losing her job and then her apartment, Karen moved back in with her parents.
"Then I got into the drinking habit a little too much," she says. This became her new normal until one day she collapsed on the floor. "It was super scary for my parents," she says. They called 9-11 and later learned she had suffered an alcohol withdrawal seizure.
After that, she sought support within the shelter system and moved into a supportive residence that had a Managed Alcohol Program. She lived there for four years, until her health suddenly declined. After a 10-day hospital stay over Christmas of 2019, the doctor discharged her into our Hospice.
"The nurses there are really great," she says. "They're really understanding and patient."
Karen's room has a large window with a bright outlook. "It's quite peaceful here," she says. Her room is covered in greeting cards featuring nature photography, religious imagery and children's drawings. Much of it came through a community mail initiative, which Hospice staff encouraged her to sign up for.
She received her cards during the height of the Covid lockdown. "They really cheered me up," she remembers, "especially at Christmas."
Thanks to your support, the Hospice celebrated its 20th anniversary this year. Thank you for helping residents like Karen find the care they need in a difficult time.
*Name changed to protect privacy
Stepping Stones
A Small Classroom With A Big Impact
Kathy is the teacher at Stepping Stones Learning Centre, a role she's held for eight years now. "It's the first job I've ever stayed in so long," she says. "I really do love it here."
The restrictions of the past 20 months were tough on her students, but most adjusted well to phone-based learning. "Phone was easier than Zoom," she says, since computer and internet access could be tricky. Students living at The Mission were allowed to come to the classroom one at a time, but over 80% of her students live in the community.
"Life is pretty unpredictable for our clients," Kathy says. "School is not always the number one priority." Students may be absent for a while due to challenges with health or sobriety, but they're always welcome back. "Students do come back," she says, and they even stay in touch after finishing their studies. "It's a small classroom with a big impact," she says, and it's made possible by your continued generosity.
Going for a Goal: Peter's Story
Peter is one of Kathy's students at Stepping Stones. He's an accomplished drummer, a good cook, and a man who lives with schizoaffective disorder. He started working with Kathy in the summer of 2018, and his goal is to earn his high school diploma.
"I dropped out of school in grade 9, so there's a lot of work to do. The illness started in high school. For a while I couldn't look people in the eye and I was paranoid. It made school very difficult."
–

Peter
At one point, Peter ended up at The Mission's shelter when there wasn't enough capacity at a local mental health centre. "There were no beds available, so they sent me to The Mission," he remembers. He left in 1994 and soon moved into supportive housing run by a non-profit organization. Over 25 years later, he's still there and loving it.
They had classes over the phone during the pandemic, but Peter was eager to come back in person. He was finally able to in August, and there was palpable joy in the reunion. "We've really got to know each other well over the last couple of years," says Kathy, and Peter agrees. "I like my teacher," he says with a smile.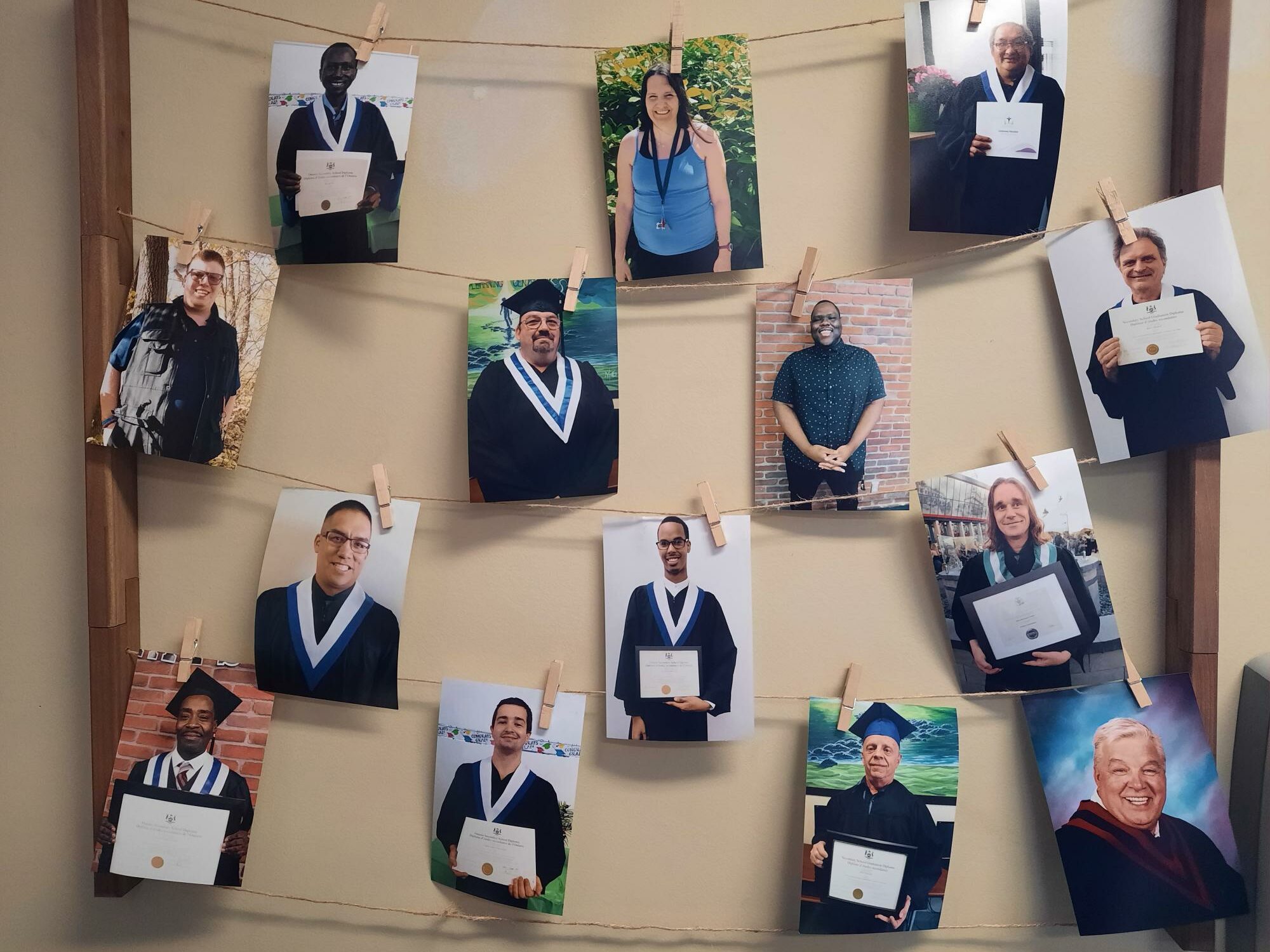 Photos of students who have finished their studies line the wall at Stepping Stones Learning Centre.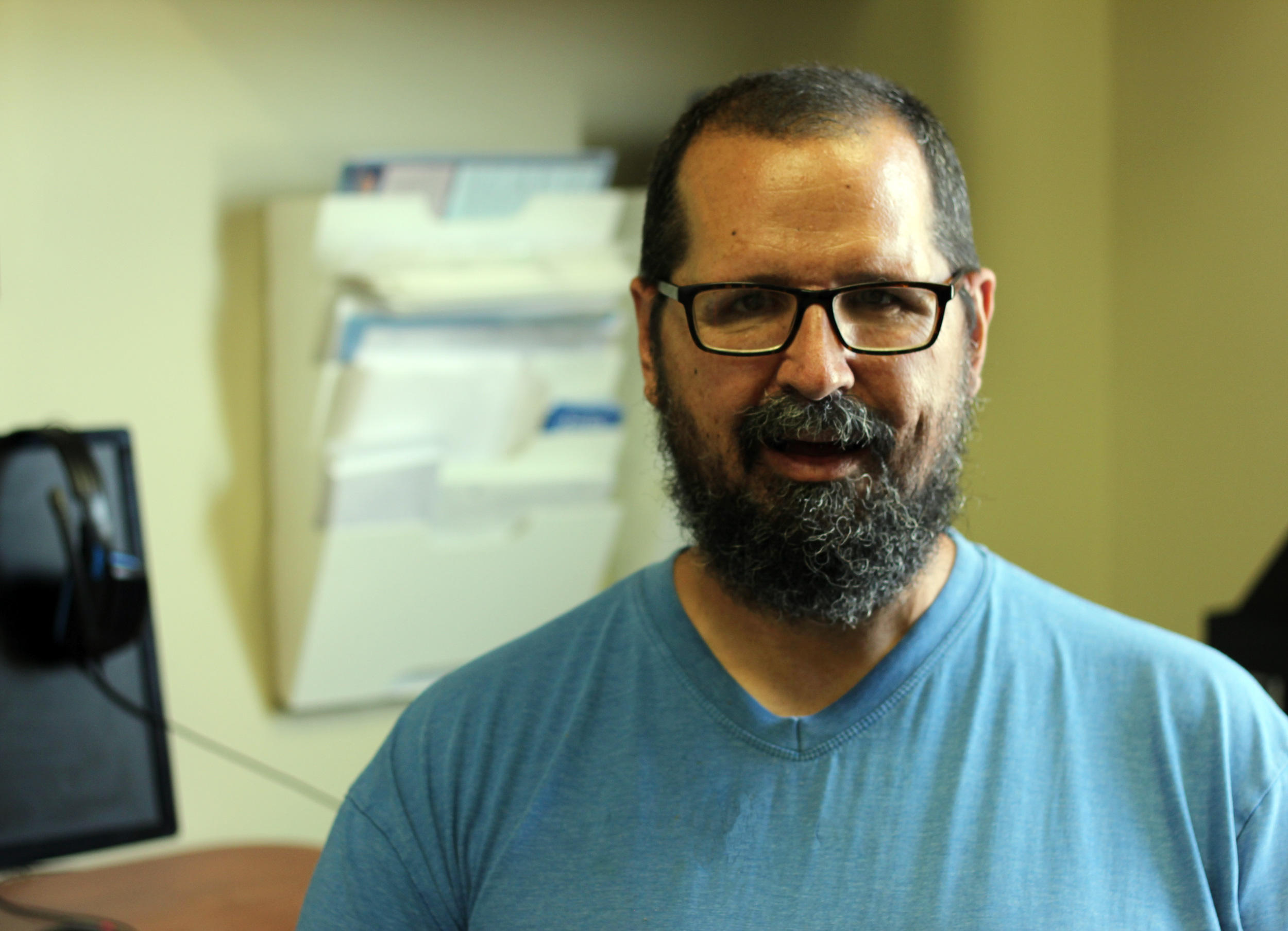 Peter is working with his teacher to complete his high school diploma through Stepping Stones.
Peter is no stranger to setting and achieving big goals. He's been sober since 1991, a milestone marked by an AA medallion he always keeps with him. Now his goal is to earn his high school diploma, and with your support, he's well on his way.
Although his medication can affect his memory, he doesn't let that stop him. "Peter's a very diligent student," says Kathy. "He brings a great attitude, and we definitely have a good laugh."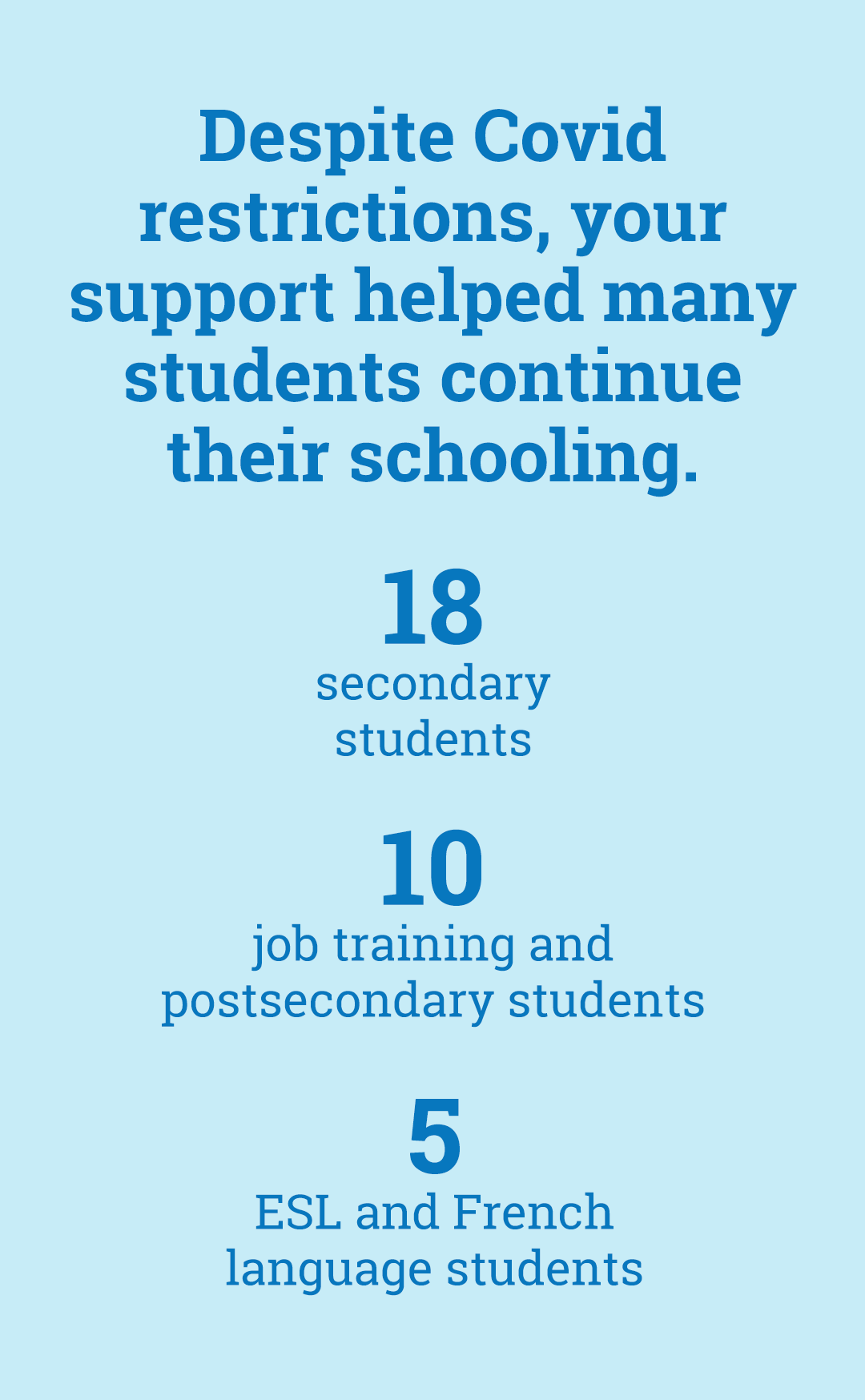 Dental Clinic
Cavities, Cleanings and Covid Closures
Thanks to your generosity and the dedication of many volunteers, The Mission's dental clinic is back. Like other dental offices, we had to close during the pandemic, but our clinic administrator and dental hygienist, Shannon, still kept very busy.
She regularly handled emergencies during the closure, pulling strings to ensure clients had somewhere to go. "I've seen some pretty sad cases, but things always end up well," she says. "I don't think there's anyone I haven't been able to help yet."
She also helped ensure a safe reopening for the clinic. "I went through everything with a fine-tooth comb," she explains. "With our population especially, a lot of clients are immunocompromised. If infection control isn't up to standards, it could cause a lot of problems."
The clinic reopened in May with a long waitlist, which has progressed well. Volunteer dental professionals provide full exams, x-rays, cleanings, extractions and fillings.
Her long-term goal for the clinic is to focus more on preventative care, but she's also aware of the community's urgent needs. "Right now there are so many clients who are in a lot of pain, so we're treating the emergencies first," she explains.
Michael is one of the patients who was grateful for the reopened clinic. His former dentist retired during the pandemic, and he knows it's not easy to find a dentist willing to take people on ODSP (disability coverage). He was at The Mission for Stabilization and the LifeHouse treatment program when one of his teeth started bothering him.
He was able to have an extraction, and during his visit he learned he could get help with dentures as well.
Volunteering
A Familiar Friendly Face
Patrick was 24 years old when he started volunteering at The Mission. He had come to Ottawa for university, but things didn't work out the way he thought they would. "I had a lot of free time on my hands and I wanted to challenge myself," he says. "I also wanted to find value in my life again."
Strategic by nature, Patrick analyzed his situation. He reflected on his youth in Kemptville, Ontario, and realized he missed volunteering. So he made it his goal to give back to the community again.
He explored many organizations before settling on The Ottawa Mission. "My assumption with a shelter was that the food would be awful and the place would be dirty," he says. "When I saw The Mission, it just seemed so well run. It was really organized and it was very clean. And the food here is as good as any restaurant I've been to."
Patrick didn't know how to cook when he began volunteering, but that all changed in The Mission's kitchen. "It's such an exciting environment," he says. "You learn amazing skills and work with chefs who are always happy to train you on something new." Now he's quite comfortable preparing food, both at home and at The Mission.
He's also grown in confidence and his career since beginning to volunteer. "I used to struggle with talking to people, and it was very difficult for me to introduce myself," he explains. "Now I find when I'm in a room, I'm so excited to see the clients, and I try to call them by their first name." At this point, Patrick knows many of the individuals facing homelessness in Ottawa, as he now works with two other shelters in the city.
Still, he keeps returning to The Mission to volunteer. "When I came here at the age of 24, I told myself it would only be for a couple of months," he says. "But then you blink and it's six years later, and it just keeps getting better and better."
The Mission couldn't run without the dedication and support of our volunteers and donors. Thank you for your continued investment into the lives of vulnerable men and women in our community.
Food & Meals
From Fresh Start to Fresh Food Delivery
Erica is someone you won't soon forget. She's a mother and a costume designer, and she would have been a mortician, but a several-year challenge with seizures meant she couldn't drive the hearse. Not one to be easily deterred, she's now pursuing another dream in Chef Ric's kitchen.
"I grew up in abuse, but I baked a lot, and that was something I really enjoyed," she says. "It was very therapeutic for me, and I always found cooking to be a positive within the negative environment."
She was halfway through culinary school in Southern Ontario, a program she loved, when she and her children had to flee to a women's shelter for victims of abuse. From there, she arranged to get on a housing waitlist in Ottawa for a fresh start.
The process was neither smooth nor straightforward, but her family eventually moved into their own place. She didn't return to culinary school right away, though. "I wanted to give my children and myself some time to just allow our minds to rest from what we had been through," she explains. She later found out about the Food Services Training Program and knew it would be the perfect fit.
When she's not learning new skills in the school's kitchen or classroom, she's doing an occasional shift at The Mission's kitchen, the Chef Ric's storefront, or the Mobile Mission Meals food truck. While she enjoys them all, the food truck has a special place in her heart.
"That food truck is a beautiful thing," she says. "If you stay behind the doors of the kitchen, you don't know who you're feeding. And to me, it's important to know who I'm feeding. I'm not just a cook, I'm cooking for people."
The Mission's food truck started in response to the rise in hunger across the community during the pandemic. It began with 5 weekly stops across Ottawa and grew to 19. Erica knows how vital the service is, and she's grateful to be part of it.
"This might be somebody's first meal in a few days," she says. "And that's a big deal."
Share Hope This Holiday Season
Transform a Life Today!
Can you believe it's almost Christmas? At The Mission, we are preparing to serve thousands of meals to people who would otherwise go without a holiday dinner — and we're hoping you'll help!
Ignite hope for tomorrow with the gift of a hot meal today.
Have a very Merry Christmas!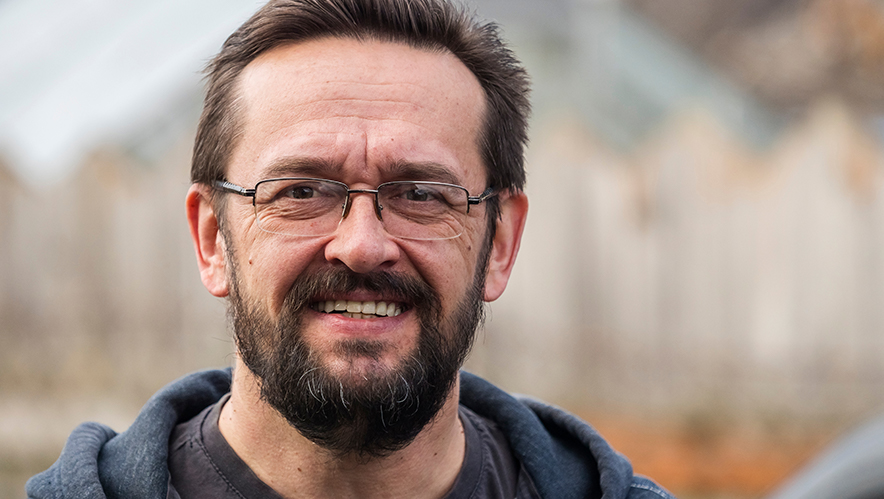 Give today to provide a warm meal to someone this Christmas.