Blue Door at your Door presented by Caivan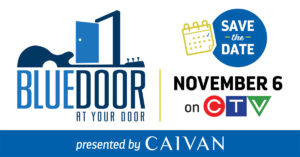 Blue Door at your Door presented by Caivan is a fundraising music event in support of The Ottawa Mission, featuring some amazing Canada musicians.
On Saturday, November 6 at 7:00 p.m. on CTV Ottawa and YouTube, you can watch and listen to world-class music and extraordinary stories about people who've received hope and improved their lives with the help of The Ottawa Mission's programs.
The night will be hosted by internationally acclaimed comedian, Tom Green, featuring performances by Blue Rodeo, Bruce Cockburn, Sam Roberts Band, Alan Doyle, Lindsay Ell, Miss Emily (Featuring Rob Baker & Gord Sinclair of The Tragically Hip) and Ottawa's own, Juno Award Winner Kellylee Evans.
Give Hope – Your gifts will be matched up to $95,000, make a donation today to help raise funds to support men and women in need in Ottawa.