Our Response To The COVID-19 Crisis And How You Can Help
Updated September 28th
As the COVID-19 public health crisis unfolds in Ottawa, we continue to care for the most vulnerable members of our community, and will not close our doors or stop accepting new clients who need our support. The wellbeing of our shelter guests, community members, volunteers, partners who help provide our services and our employees who provide exceptional support to those who need it remains our top priority.
We have enhanced our cleaning procedures and reviewed all our activities to maintain essential services for our clients while minimizing the risk of infection:
The Shelter and hospice are open to staff, scheduled volunteers and residents only.
Shelter guest continue to receive three meals per day. Three take-out meals for community members are available beginning at 1:00 p.m. at the corner of Waller and Besserer.
On Tuesdays from 5:30 – 7:00 p.m., shelter guests and gentlemen in the community can join our SMART Recovery meetings. SMART Recovery is an abstinence-oriented, non-judgmental peer support program for individuals with addictions to help them make changes in their lives through learning goal-oriented coping skills. It focuses on present-day events, the causes of self-destructive behaviours, and how to achieve positive lifestyle changes. To join, please visit the meeting page on SMART Recovery website and click on the link under "Important Meeting Information". You will need the Zoom application loaded on your device before connecting. For more information, please contact Robert at: 613-234-1144 x 323.
As of June 2, Day Program for Addiction and Trauma Services is being held in the Mission's dining room on Tuesdays and Thursdays from 1:30pm-2:30pm. Due to COVID-19, only 25 participants will be accepted for each session and seating will be provided to those who arrive first.
Also as of June 2, Day Program is being followed by a chapel service in the dining room from 2:30pm-3:00pm.
The DYMON Primary Care Clinic is open.  We are available for phone visits to renew medication, address health concerns, and support our clients during COVID19. First step, call us at 613-288-0460 to speak to one of our Nurse Practitioners. Together we will decide if an in-person visit is necessary and if so, we will book you an appointment. If you do not have a phone and are a guest at The Mission, see the case management office for help to use the phone.
Case management and mental health supports are available at the shelter entrance at 35 Waller St.
All visits to the Hospice have been suspended. In the DYMON Health Clinic and throughout the shelter, staff, and scheduled volunteers are following strict protocols concerning prevention, containment and assessment in accordance with Ottawa Public Health.
The following programs are suspended until further notice: Clients Services, Client educational programs, and all client social activities.
Until further notice, please be advised that we are unable to accept donations of clothing or other items.
We are sorry to announce that the Discovery University Fall 2020 term must be cancelled due to COVID-19 restrictions. Please check back in the Fall for information on a Winter 2021 term.
Donations of food can be dropped off between 7 am – 5 pm at the garage entrance to The Ottawa Mission at the corner of Waller and Besserer. Please ring the bell and a staff person will arrive to receive your donation.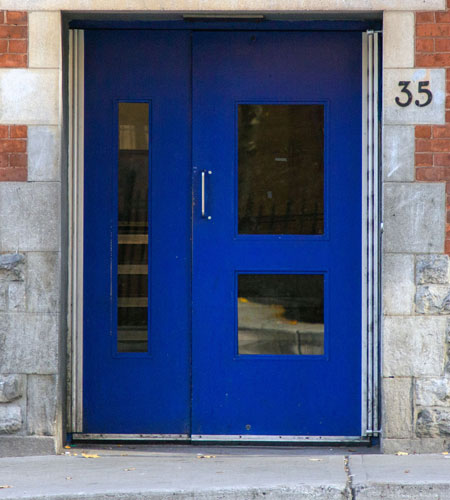 How you can help
Donations are the best way to keep the essential services for people experiencing homelessness operating at The Mission. For only $3.47, you can provide a warm meal to someone in need during these difficult times.
We remain deeply grateful for your continuing support. Please accept our sincere wishes and belief that we will all weather this together in faith, and that you, your friends and loved ones are all safe and sound.