2017 Thanksgiving Newsletter
YOUR GENEROSITY IS AN INSPIRATION
"You will be enriched in every way so that you can be generous on every occasion, and through us your generosity will result in Thanksgiving to God."
2 Corinthians 9:11
Summer is almost over, and before we know it the Thanksgiving season will be upon us. We all have so much to be thankful for – our families, friends, good health, fulfilling jobs, the opportunity to enjoy our retirement years.
That's why I am humbled by the gratitude expressed to us every day by the people you help serve at The Ottawa Mission – people who have endured much and have little to be thankful for.
Almost every day I get the chance to speak with some of the people who require the programs and services of The Mission. A couple of times a week, I usually cross paths with David and we have the chance to banter back and forth about the latest sports scores and where we see our teams heading into the playoffs. I realized one day that David's sports experience is far different than mine. When he can, he listens to the games on a little radio he carries in his pocket.
Another thing that is different about David is that he needs to come to the Mission every day for his meals – without which, he says, he's not sure how he would survive. But for David, it goes beyond nourishment – the fellowship of the staff and other clients at The Mission is equally important to him. As he said, "I don't like to be alone…I need to share a meal with someone."
In that moment I had a renewed sense of all the people who walk with us in faith as we extend the hand of love and compassion to people who are homeless, hungry and hurting. And I thank God, because He has provided us with all of you.
Blessings,

Sean Wong

EXECUTIVE DIRECTOR
THE OTTAWA MISSION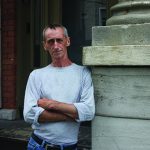 On Canada's 150th birthday, George celebrated one year of sobriety. His journey to this milestone has been a long and winding one, but he's thankful to The Ottawa Mission and you for his success.
Glen has spent much of his adult life in and out of shelters across Canada, including The Ottawa Mission, struggling with addiction and trying to find a way to stabilize his life.
When you meet Wenyin for the first time you are struck by his beaming smile and humble nature. And when you hear about his journey over the past year, you can't help but be amazed by how much he has turned his life around in such a short space of time.
As she approached retirement after 40 years as a counsellor and social worker, Jean Wylie was looking for volunteer opportunities. Thankfully for us, she answered the call one day to help make sandwiches at The Ottawa Mission.
At 55, Chris is beginning a whole new life – one he could never have imagined even a year ago.
Chris's adulthood was marked by addiction and trouble with the law. Although he was college educated and had a good job, a number of influences – including a troubled relationship with his father, the sudden death of his mother, and failed personal relationships – led him to a life of drugs.